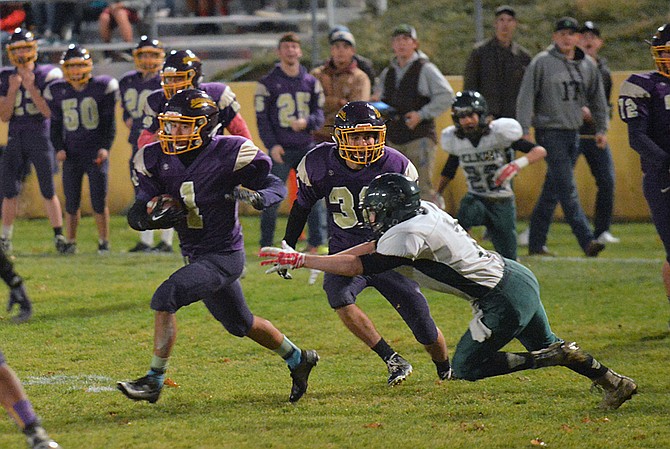 Photo by Al Camp
Julio Espino of Pateros zigged and zagged to an apparent touchdown against Selkirk on Friday. The play was called back on a penalty.
OKANOGAN — Myron Super ran for a 69-yard touchdown on the first play from scrimmage and the rout was on in Okanogan's 42-10 crossover game against Newport on Friday night.
Michael Goetz scored on a 41-yard pass from Alex Nelson, ran 2 yards to pay dirt and passed 36 yards to Dakota Fingar.
Greyson Fields rushed 8 times for 142 yards that included an 88-yard touchdown run.
Super wrapped up the scoring on a 29-yard run.
Friday scores:
Almira/Coulee-Hartline 28, Cusick 8
Chelan 14, Riverside 7
Dayton 49, Tonasket 7
Entiat 62, Republic 26
Lake Roosevelt 20, DeSales 14 OT
La Salle 63, Columbia (Burbank) 32
Odessa-Harrington 60, Inchelium 14
Okanogan 42, Newport 10
Omak 35, Chewelah 26
Selkirk 60, Pateros 12
Tri-Cities Prep 40, Manson 0
Waterville 59, Bridgeport 26
Saturday:
Colville 64, Cashmere 28
Mabton 41, Oroville 22