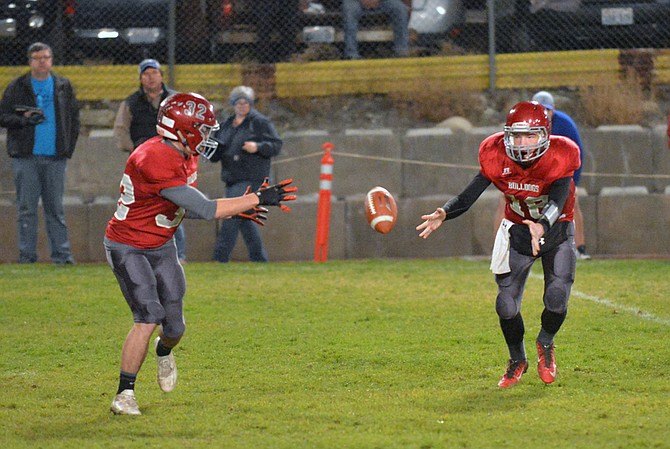 Photo by Al Camp
Okanogan High School quarterback Alex Nelson pitches to Greyson Fields during game with La Salle on Friday. The Lightning won, 35-20.
OKANOGAN — No. 9 La Salle, led by the four receiving touchdowns by Jordan Martin, topped No. 10 Okanogan, 35-20, in an opening-round state 1A playoff game Friday.
Martin finished with a school-record 271 receiving yards
Martin scored on pass completions of 87, 26, 34 and 80 yards.
La Salle (10-1) will play the winner of Colville at Royal City that was to be played today, Saturday, in the state quarterfinals next week.
Okanogan finished at 9-2.
Okanogan quarterback Alex Nelson completed 14-of 23 passes for two touchdowns and an interception.
A halfback pass was intercepted.
Okanogan receivers included Michael Goetz (7-110, TD), Fields (1-43, TD), Poulin (3-18) and James Colbert (2-7).
Okanogan rushers included Greyson Fields (10-76, TD), Martin Grooms (5-67), Poulin (16-61) and Super (5-49).
Area teams:
Allmira/Coulee-Hartline 54, Pomeroy 12
Colton 74, Inchelium 26
La Salle 35, Okanogan 20
Northwest Christian (Colbert) 48, Lake Roosevelt 16
Elsewhere:
1A
Connell 48, Montesano 28
Deer Park 21, Naches Valley 0
La Center 28, Port Townsend 7
La Salle 35, Okanogan 20
Zillah 49, Freeman 42, OT
Royal 27, Colville 6
Nov. 18-19 games
Connell vs. winner Meridian/Cascade Christian
Hoquiam/Mount Baker vs. La Center
La Salle at Royal, 7 p.m., Nov. 18
Zillah vs. Deer Park
2B
Asotin 41, Tonasket 3
Liberty (Spangle) 44, Kittitas 6
Napavine 41, Kalama 6
Northwest Christian (Colbert) 48, Lake Roosevelt 16
Toledo 35, Ilwaco 14
Pe Ell/Willipa Valley 30, Mabton 13
Dayton/Waitsburg 34, Tri-Cities Prep 14
Nov. 18-19
1B
Colton 74, Inchelium 26
Yeah Bay 58, Taholah 22
Elsewhere:
2A
No. 1 Archbishop Murphy 34, No. 4 North Kitsap 0
Liberty 20, Steilacoom 13
Tumwater 44, Washington 7
3A
Bonney Lake 24, Squalicum 7
Eastside Catholic 39, Timberline 21
Lincoln 35, Lynnwood 14
Meadowdale 24, Kelso 20
O'Dea 42, Ferndale 21
4A
Camas 55, Graham-Kapowsin 6
Richland 41, Sunnyside 0
Skyline 31, Eastlake 14
Sumner 58, Monroe 42
Woodinville 27, Mariner 0
Saturday games:
2B
Ilwaco vs. Toledo
Raymond vs. La Conner
Mabton vs. Pe Ell/Willipa Valley
Ti-Cities Prep vs. Dayton-Waitsburg
1A
Meridian vs. Cascade Christian
Hoquiam vs. Mount Baker
Royal 27, Colville 6