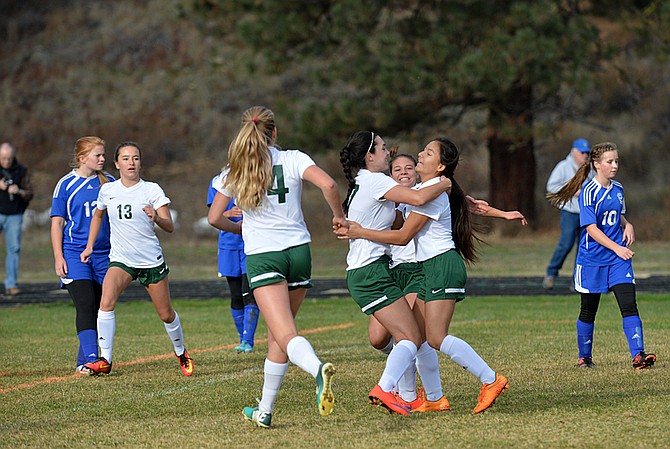 Photo by Al Camp
Tommy Ochoa, right, is greeted by her teammates after making a penalty kick about 5 minutes onto the match with Tonasket on Saturday. The Tigers scored early in the second half before the state game was decided in a shoot out won by the Mountain Lions (4-2).
WINTHROP — Liberty Bell edged Tonasket, 2-1, following a shootout (4-2) in a first-round, loser-out state soccer match Saturday.
Tommy Ochoa lifted the Mountain Lions to a 1-0 lead on a penalty kick 5 minutes into the match.
Tonasket evened the score about 5 minutes into the second half.
The Tigers used a corner kick from the right side to send the ball in front of the goal.
Liberty Bell headed the ball up before it crashed down just in front of the goal line. An effort to clear the ball sent it into the net.
Liberty Bell advances to the Final 4, where it will play at 4 p.m. Friday the winner of the Brewster and St. George's match on Saturday at Sunset Chev Stadium in Sumner.
Adna plays at 2 p.m. against the winner of the Kalama and La Conner game that was to be played Saturday.
The Top 4 finalists in the 1B/2B tournament earn state trophies.
Saturday scores:
Adna 2, Crosspoint 1 SO
Kalama 2, La Conner 0
Liberty Bell 2, Tonasket 1 SO
St. George's 2, Brewster 1
Nov. 18, state semifinals at Sunset Chev Stadium in Sumner:
Adna vs. Kalama
Liberty Bell vs. St. George's