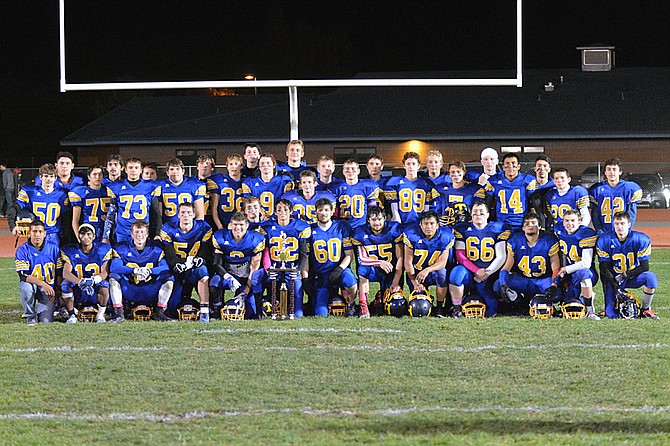 Photo by Al Camp
Tonasket football team poses with Battle for the Bell trophy after edging Oroville, 20-16, on Friday.
TONASKET — The Tonasket High School football team used an interception in the end zone to preserve a 20-16 win over Oroville in a Central Washington 2B League game Friday.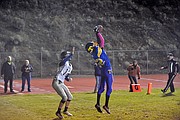 The victory elevates the Tigers (7-1 overall, 7-0 league) to a game at Lake Roosevelt (6-1, 6-1) next Friday for the league championship.
In the Caribou Trail League, Cascade (4-4, 2-1) upset No. 5 state-ranked Okanogan (6-1, 2-1), 34-28.
Omak (5-2, 1-2) prepared for the Backyard Brawl by blasting Highland, 65-0, in a non-league game.
The Brawl, which comes on the final week of the regular season, will be in Okanogan at 7 p.m. Oct. 28.
Friday scores:
ACH 58, Entiat 14
Brewster 48, Waterville 8
Cascade 34, Okanogan 28
Cashmere 27, Chelan 18
Cusick 34, Republic 14
Inchelium 58, Columbia (Hunters) 0
Lake Roosevelt 68, Bridgeport 0
Manson 48, Liberty Bell 0
Odessa-Harrington 88, Yakama Tribal 6
Omak 65, Highland 0
Tonasket 20, Oroville 16
Wellpinit 30, Pateros 24