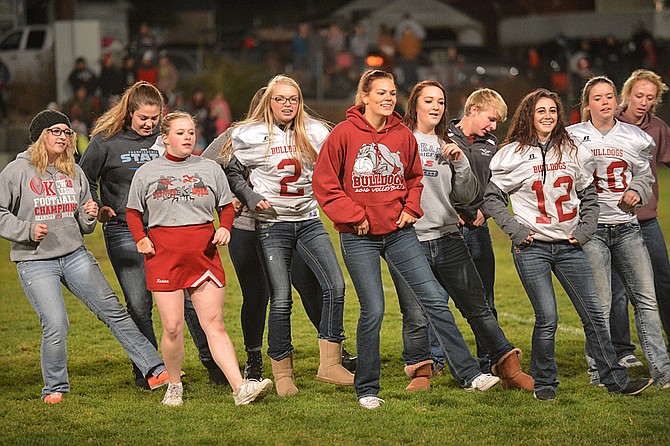 Photo by Al Camp
Okanogan High School seniors dance at halftime of the Backyard Brawl against Omak on Friday in Okanogan.
OKANOGAN — The Caribou Trail League finished with a 3-way tie after Okanogan and Cascade both won on the final night of the regular Season Friday.
Okanogan led 28-16 into the fourth quarter before Omak charged back, cutting the lead to 28-23 with about 4 minutes to go
The Pioneers recovered a fumble on the ensuing kickoff but went backwards on a running play that lost yardage, penalties and a fumble, which Omak recovered.
Cascade trailed early before pulling out its win.
Okanogan, Cashmere and Cascade finished with identical 3-1 CTL records.
Update:
A mini-playoff using a Kansas City tiebreaker is planned for 6 p.m. Tuesday at the Apple Bowl in Wenatchee.
Okanogan and Cashmere play in game 1.
The winner then plays Cascade in game 2.
If Cascade wins, it receives the CTL No. 1 seed and the loser of game 1 is No. 2 to crossover games scheduled for Friday.
If Cascade loses, the winner is No. 1 from the CTL and Cascade plays the loser of game 1 for the No. 2 seed.
In crossover games Friday with the Northeast 1A League, game 1 pits NEA No. 3 at CTL No. 2 and game 2 is NEA No. 4 at CTL No. 1. Both games are loser out, winners to state.
State seeding from crossover games:
The NEA No. 1 team is District 7 No. 1 to state.
NEA No. 2 is District 6/7 No. 3 to state.
Winner game 1 Friday is District 6/7 No. 4 to state.
Winner game 2 Friday is District 6 No. 1 to state.
Friday
Inchelium 42, Republic 34
Cascade 42, Chelan 33
La Salle 49, Cashmere 28
Manson 36, Brewster 0
Odessa-Harrington 50, Almira/Coulee-Hartline 12
Okanogan 28, Omak 23
Oroville 52, Waterville 12
Soap Lake 53, Bridgeport 14
Tonasket 16, Lake Roosevelt 14
Thursday
Entiat 56, Pateros 24