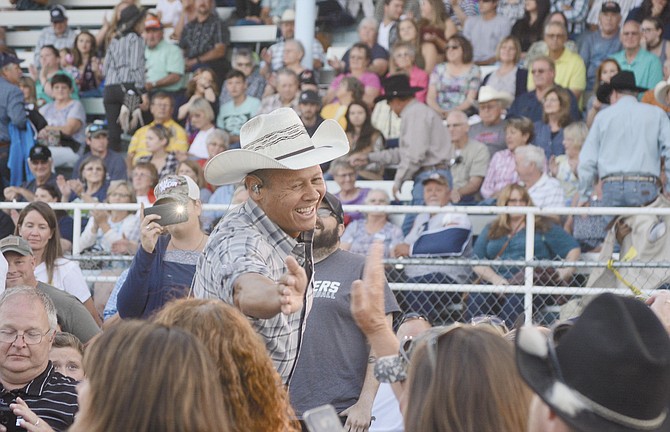 Photo by Brock Hires
Neal McCoy wanders through the crowd shaking hands during his performance Aug. 25 in Waterville.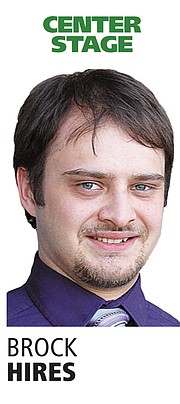 A blend of country music, comedy and patriotism left a crowd of several hundred people in Waterville cheering and standing on their feet Friday.
Smiles and laughter filled the North Central Washington Fair grandstands Aug. 25, as country music legend and two-time TNN/Music City News Entertainer of the Year Neal McCoy wandered through the crowd during his second number of the evening, "The City Put the Country Back in Me."
McCoy opened the show with "Somewhere Over the Rainbow" noting the "Wizard of Oz" debuted on the same date in 1939.
Throughout the nearly 90-minute show, McCoy brought a mix of his hits from the early '90s, coupled with his unique brand of humor, ranging from witty comments about the lack of security at the venue, to the windy weather in eastern Washington and Seattle Seahawks fans (he is a Dallas Cowboys fan).
During one point of the show he spotted an audience member eating curly fries and asked to have some delivered to him. He and his band munched on them throughout the show.
There was, however, a more serious side to McCoy. He brought more than a dozen songs including his hits "Shake," "They're Playing our Song," "No Doubt About It" and "Billy's Got His Beer Goggles On." He also performed several popular cover songs including the Beatles' "Yesterday," "Yellow Submarine" and "Come Together," and Charley Pride's "Is Anybody Going' to San Antone?"
At one point, he began singing a cover of Tracy Byrd's "I'm From The County," which brought back memories to those who attended Byrd's 2001 concert at the fair.
Throughout his show he made several references to the opening act, Jumpers Flat. He said they were fine musicians and he listened to much of their performance from backstage.
He also brought a powerful performance of the traditional hymn, "How Great Thou Art."
Another highlight of the show was when McCoy invited Wenatchee-based musician Gavin McLaughlin to perform a song on stage with McCoy's band.
Nearing the end of his show, McCoy performed his 1994 No. 1 Billboard chart-topping song, "Wink," which drew a standing ovation.
Before his final number - "I'm Your Biggest Fan" - McCoy took time to thank his fans for supporting him over the years, and paid tribute to law enforcement officers and military troops across the nation.
"This goes out to all our troops," said the singer, who has performed on multiple USO tours. "It's really pretty simple stuff. Just be respectful of other people.
"Be nice to your police, your firefighters, your deputy sheriffs, your first responders," he said. "Your teachers, your nurses, your waiters and waitresses, and people that take care of you.
"Quit being a jerk. Just be nice to people."
While McCoy is a fine entertainer and certainly a country music icon, I think it would have been nice to hear a little bit more music and less conversing with the audience.
I found it interesting that he did not follow a set list, which made for a truly unique performance, and different from a traditional show of non-stop music.
His high energy level and band of well-seasoned musicians made for a great experience. 
Prior to the show my wife and I visited with him backstage. What stood out to me was his willingness to meet fans and that he didn't quickly shake their hands and shoo them off like most stars do. He is a down-to-earth country person who had what appeared to be all the time in the world to get to know his supporters.
If given the chance to see him perform again I would definitely attend!