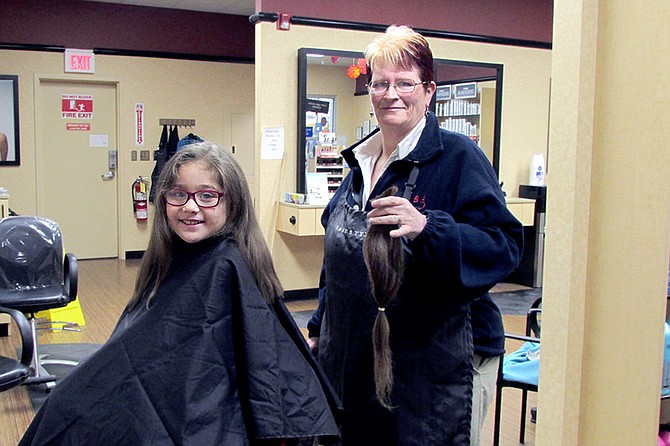 Photo by Brock Hires
Aliya Rodriguez is all smiles as hairstylist Denise Schulz holds up the 17 inches of hair Rodriguez will be donating to Wigs For Kids.
OMAK – It's often said big things come in small packages.
Nothing could be truer than when it comes to 6-year-old Aliya Rodriguez.
After watching a TV commercial for Wigs For Kids, she decided she wanted to have her hair cut — for the first time in her life — and donate it to children with cancer.
"I want to donate it to the kids," Rodriguez said Saturday morning while sitting in a hair salon chair at SmartStyle in Omak. "I'm excited."
Holding a tape measure to her daughter's hair, Tiffany Bello told stylist Denise Schulz to cut off 17 inches.
Surrounded by family, Schulz began cutting.
"I wouldn't miss this for the world," said Rodriguez's grandfather, Don Wilkinson.
"I'm just so proud of her," Bello said. "She's going to look so different."
Bello said when Rodriguez was younger she never wanted a haircut. But now she's inspired to help those in need.
Rodriguez said she plans to continue making donations to Wigs for Kids. Her sisters, Angelica, 12, and Natalie, 10, are also considering donating their own hair in the future.