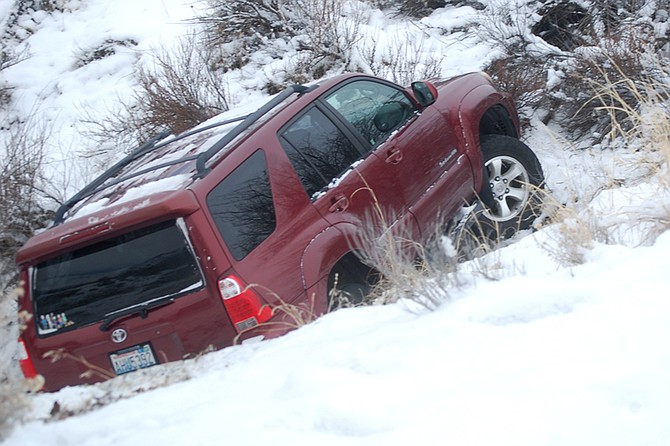 Photo by Brock Hires
A vehicle slides off Dalton Road above Omak on Wednesday morning, Dec. 27. According to Okanogan County Sheriff Frank Rogers, no one was injured in the wreck.
OKANOGAN — Okanogan and Ferry counties became a wintery wonderland last week as snow fell off and on throughout the latter portion of the week.
Snowfall amount totals were not available at press time.
Friday's snow storm came on the heels of a winter storm watch, issued by the Spokane office of the National Weather Service on Wednesday morning.
Locally, the warning was issued for Boulder Creek Road, Chesaw Road, Conconully, Inchelium, Kettle Falls, Loup Loup Pass, Mazama, Republic, Sherman Pass, Twisp, Wauconda, Highway 20 Wauconda Summit and Winthrop.
Officials called for valley snow accumulations of 8 to 13 inches, and mountain accumulations of 2 to 3 feet.
The National Weather Service also issued a winter weather advisory, calling for 2 to 4 inches of snow on the valley floor.
Weather officials said more snow may be expected into this week.
"The upper level ridge will build along the west coast and the storm that brought widespread snow, freezing rain and rain to the region will exit to the east," weather officials said Friday. "The models agree on the ridge axis placement through about early Monday morning. Then they begin to disagree on energy and moisture moving through the ridge.
"There could be some light snow in the Cascades Tuesday," officials said. "Then, Tuesday night through Friday, there is a slight chance of snow at times. Confidence is not high due to the models lack of agreement on the small scale features."
Officials said temperatures will remain below average through Wednesday, then temperatures will "creep up towards near average."