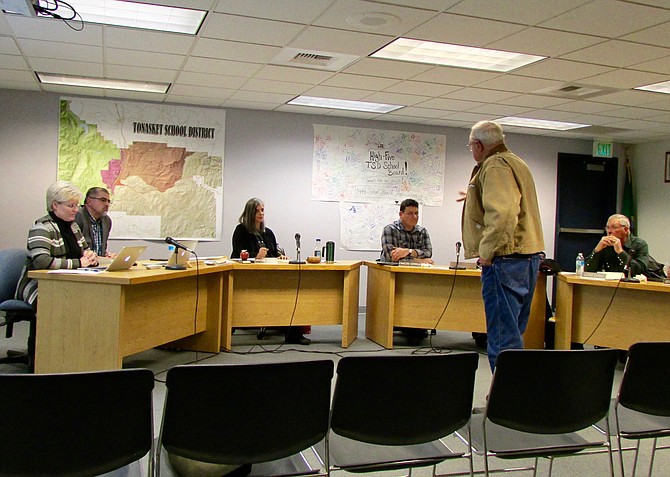 TONASKET - "There's no damn excuse for it."
That's what community member Gerald Cox told school leaders during a board meeting last night regarding the recent altercation between a coach and teacher that took place while class was in session - and was videotaped by a student late last month.
Cox was among three people who addressed the board with various concerns ranging from a lack of response from school officials when the initial incident occurred to why charges have not been filed against Tonasket High School basketball coach Kevin Landdeck, who is currently on administrative leave.
A situation "occurred where a teacher is attacked in the room by a citizen; where a teacher is threatened by a citizen in his classroom," Cox said. "Look at your RCWs, that is a misdemeanor."
"Why in the hell weren't you, Steve (McCullough), and the building's principal down at the police station launching charges?" he said. "There's no damn excuse for it, guys."
McCullough, who is the district's superintendent, said law enforcement has been notified of the incident.
"You don't consult (law enforcement)," Cox said. "You file the charge, Steve."
Board chairwoman Catherine Stangland asked Cox to be cautious with his language, prompting him to reply, "Oh, I'm sorry I offended you - not really."
Others offered concerns over why parents were not notified of the altercation, and questioned how students can allegedly violate the school's athletic code, yet still be eligible to participate in extracurricular activities.
Landdeck's leave stems from his apparently interrupting Jim Caddy's middle school class and accusing him of calling Landdeck's son a name.
In the video Caddy asks Landdeck, who was employed to coach basketball but is not a teacher at the school, to leave the classroom and discuss the matter later.
Caddy denies harassing Landdeck's son and persists in asking the coach to leave the classroom, the video shows.
Late last week Landdeck told The Chronicle he does not expect to return to coaching the team. He said he confronted a teacher about his alleged behavior at a game and he is "being made out to be the bad guy."
He praised the team for its resilience though the situation.
Earlier this week The Chronicle received an anonymous phone call claiming the caller was the person who allegedly made the comment about Landdeck's son, not Caddy.
The caller, who did not disclose his identity, alleged Landdeck's son and two other basketball players allegedly violated the school's athletic code and, after being heard by an appeals board, were able to start the next basketball game.
McCullough declined to comment on the allegation, saying that as a school district student disciplinary actions are private matters and protected by federal law.
We will have a complete story on the meeting in the Wednesday, Feb. 22 edition of The Omak-Okanogan County Chronicle.