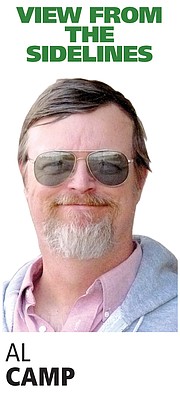 Buck Workman and Valorie Murray had 1,500 trump in diamonds during pinochle Feb. 21 at the Eagles Club in Okanogan.
There normally are five or six tables at play, starting at 6 p.m. each Tuesday, spokeswoman Millie Jewell said.
Ida Laurie and Alvin Wadkins each had 1,000 aces.
Feb. 21 results: Ida Laurie 8,320. Doug Ralston 8,290. Tim Norman 8,010. Valorie Murray 8,000.
Tonya Rasmussen and Gail Norman threw down 1,000 aces during pinochle Feb. 7.
The group that meets Tuesday to play was whittle from 6 tables to 5 tables Feb. 14 due to illness, Jewel, said.
Feb. 14 results: Vicki Harlan 8,250. Ida Laurie, 8,150. Gail Norman, 8,060. Millie Jewell, 7,030.
Feb. 7 results: Vicki Harlan, 8,580. Paul Steuermann, 7,970. Norman Lawson, 7,600. Doris Richardson 6,910.
★ ★ ★ ★ ★
Rachael Kraske of Omak, who is competing in door track for the George Fox University in Newberg, Ore., set a new school record in the 60-meter hurdles.
Kraske, competing at the Seattle Pacific Last Chance Indoor Meet on the weekend at the University of Washington's Dempsey indoor facility, finished in 8.69 seconds.
Her previous best and indoor record was 8.89 seconds, or a two-tenths of second improvement.
She is now ranked No. 2 nationally in Division III indoor rankings.
She next competes at nationals March 10-11 at Naperville, Ill.
Kraske also ran a leg on the 4x400 relay, which set a new school record at 4:00.22.
George Fox is ranked No. 11 nationally as a team, down from sixth place, which was the highest ranking ever for the team.
★ ★ ★ ★ ★
Ty Egbert, a Lake Roosevelt graduate, was honored as one of two senior backups for the University of Idaho during Senior Day and the final home game Saturday.
The Vandals (15-12, 10-6 Big Sky) held off Weber State in overtime, 83-78.
Weber State, which was atop the Big Sky standings two weeks ago, has dropped three straight and is now in third place behind North Dakota and Eastern Washington at 16-11, 11-5.
Idaho is one game behind the Wildcats and is tied for fourth entering the last week of the regular season.
★ ★ ★ ★ ★
Okanogan seniors Megan Patrick and Shelby Walker took first place (for the third straight year) in varsity girls' doubles Feb. 24-26 in the Central Washington Junior Classic Tennis Tournament at the Yakima Tennis Club.
"With 90-plus participants in all events, (we) made a very nice showing against players generally from the larger schools," said spokesman Greg Grillo.
Chase Grillo took first in junior varsity boys' singles.
Devyn Grillo finished third in varsity boys' singles.
Alex Thornton and Jay Nearents were third in varsity boys' doubles.
"The kids played some fantastic tennis and represented our area extremely well," Greg Grillo said.
★ ★ ★ ★ ★
Riata Sage Marchant of Omak was selected last weekend to be queen for the Coulee City Last Stand Rodeo this year.
The 65th annual rodeo will be May 26-28.
★ ★ ★ ★ ★
The Omak Fish and Game Club, along with the combined Oroville/Tonasket gun clubs, competed Sunday in the final shoot of the eight-week Spokesman-Review Trapshoot single competition.
Despite a strong wind, snow and 28 degrees, Randy Clough and Lance Skelton hit perfect 25s at Omak.
Rick Lind hit for a 25 from 16 yards at the Oroville/Tonasket shoot.
Omak results:
(16 shooters)
Singles: 25, Randy Clough, Lance Skelton. 23, Don Calentine, Troy Fewkes. 21, Bob Crowell, Clay Brown, Roy Wadkins.
Ladies: 5, Patty DeTro.
Sub juniors: 17, Williams Rice. 14, Trevor Nessly.
Handicap: 21, Lance Skelton. 20, Tom Holsworth, Bob Crowell. 19, Roy Wadkins, Tom Strange.
Doubles: 21, Don Calentine. 20, Troy Fewkes. 19, Randy Clough.
Oroville/Tonasket results:
Singles: 25, Rick Lind. 23, Robert McDaniel, Jerry Asmussen, Doug McMillan. 22, Noah Olmstead. 21, Randy Cline, Brendan Asmussen. 20, Jeff McMillan, Logan Farris. 19, Paul Schwilke. 17, Vern Cole, George Miklos.
Handicap: 22, Jerry Asmussen. 21, Doug McMillan. 19, Rick Lind, Randy Cline. 17, Brendan Asmussen. 15, Noah Olmstead.
★ ★ ★ ★ ★
A high-powered/service rifle competition clinic is planned for March 25 at the Riverside Sportsmen's Association Range and Clubhouse, 249 Pharr Road, north of Riverside.
Sign-up is at 8:30 a.m. with the clinic starting at 9 a.m., spokesman Ralph Malone said.
There is a cost.
Al Camp is the sports editor at The Chronicle He can be reached at 509-826-1110 or via email at sports@omakchronicle.com.