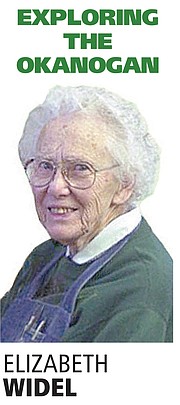 One of my late husband Glen's favorite places to roam around by car was an area known as the South Half, a large area across the Okanogan River on the Colville Indian Reservation occupied largely by ranches.
There were ranch houses from time to time that had rather long front driveways, perhaps as much as half a mile or more. When my mother visited here from Illinois, she was astonished at the length of these front driveways.
One such was the front driveway of Cass and Janice, who were raising cattle in that area.
But one of the striking aspects of their home was that if you stopped to call on them, you had to do what I called eating your way out of the house.
For Janice, sending a guest away without offering food was not to be considered. You had to eat before you left.
Their place was situated among several geologic formations, which I found endlessly fascinating. There were rock formations of various kinds and a whole bunch of other interesting things.
But the outstanding thing in my mind was the warm hospitality of Janice, whom I found an excellent cook and many was the pleasant meal she offered us as we came by.
This, accompanied by a fascinating rock outcropping, plainly visible from the house, made stopping there a combination of geology and marvelous food.
There were a number of times, when as we came down that road I would ask Glen, "Are we going to stop here?" He would reply, "No, for we do not eat and run."
Castle, who did a lot of outdoor work, had the appetite that goes with an outdoors man and he appreciated his wife's skills in the kitchen and so did any of their guests so, since we knew her feelings in the matter, there were times when we did not stop for we did not have time for the marvelous meal and mutual appreciation for all parties concerned.
I think Glen appreciated Cass' stories about things that happened on the ranch.
One of these was his claim that he had given so many pills to his cattle that when one of the beasts, upon seeing him coming, sat down and opened its mouth.
Said one of their friends, "That sounds like one of Cass' stories."
On another occasion, Janice and I were upstairs, and Glen and Castle were in the basement and suddenly there was a great roar of laughter from Glen.
Janice looked at me in appreciation, Castle had told another of his stories.
Now they are long gone and the obligations of a guest to eat and appreciate and share the warm camaraderie of the men, is a thing of the past. But I remember with pleasure not only the fine food, but the warmth of the group around the table when we stopped to visit and eat our way out of the house.
Elizabeth Widel is a columnist for The Chronicle. This is the 3,033rd column in a series. She can be reached at 509-826-1110.