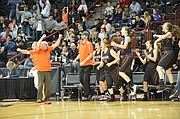 REPUBLIC - Slight of hand works for magicians, and for Republic girls' basketball coach Ted Torzewski in the state 1B semifinals Friday night.
The Tigers, normally a man defense team slipped into a zone enough to confuse the Knights, winning 50-45 and advancing to the state championship Saturday.
The title game will pit No. 3 Republic against a familiar foe, No. 6 Almira/Coulee-Hartline, at 3 p.m. Saturday at the Spokane Arena.
The Warriors, which fell to Republic in the regional game a week earlier, reached the championship with a 50-46 win over No. 1 and eight-time defending champion Colton.
"We wanted to transition into a zone," Torzewski said of the game against Sunnyside Christian. "We knew they made only 1-of-12 3-pointers the other night. The zone helped get them off guard and keep their guards at bay.
"They've got some great guards that can penetrate," Torzewski said.
"It was a great ball game," Sunnyside Christian coach Al Smeenk said. "But that was a big loss (guard Sailor Liefke fouling out with several minutes left in the game).
The 5-2 Liefke finished with 9 points, 3 rebounds, 3 assists and 2 steals.
"We couldn't find a combination to stop them on defense and (at the same tome) offensively to get the ball through the hoop."
Sunnyside Christian was well aware of Republic's leading scorer, Shania Graham.
The 5-6 point guard finished with 13 points, 11 assists, 9 rebounds and 5 steals.
What the Knights were not prepared for was 5-6 guard Lily Beckwith driving inside, often drawing fouls.
"Lily is capable attacking the basket and can hit the 3," Torzewski said of Beckwith, who finished with a team- and game-high 17 points (3-8 on treys). "They were not prepared for that."
Beckwith also finished with 5 rebounds.
Sunnyside Christian led, 13-9 after one quarter and 24-23 at the half.
The Tigers were up 36-34 after three quarters.
"We kept doing what we do," Torzewski said. "They never gave up. They've been working for this a longtime."
"I know we needed to drive more on that team, try to draw fouls," Beckwith said.
The game went back and forth plenty, until Beckwith was sent to the foul line with 5.7 seconds on the clock and the Tigers holding a slim, 48-45 lead.
"We've been practicing free throws, pounding them in practice," Beckwith said. "I knew I had to make one."
She did and the Tigers picked up one more for the final score.
Asked how he felt after the game, Torzewski said, "Elation, I guess."
The shorter overall Tigers outrebounded the Knights (35-32) and made 10-of-12 free throws (83.3 percent).
Sunnyside Christian made 7-of-11 free throws (63.6 percent).
"I know we can beat ACH," Beckwith said. "We probably will play zone to take away their big girl (5-10 Gabi Isaak)l."
"To beat ACH we need to play a solid game," Torzewski said.
"Both teams played hard," said Smeenk, whose team was led by 6-1 Kristen Broersma who finished with 10 points, 11 rebounds and 2 blocked shots.
The teams are familiar with each other, with Sunnyside beating Republic two years ago at state. They also play summer ball against each other.
Republic 9 14 13 14 50
Sunnyside Christian 13 11 10 11 45
Republic (50) - C. Rittel 5, VanSlyke 8, Koepke 3, Beckwith 17, Graham 13, K. Rittel 4, Allen 0. Rebounds (35) - C. Rittel 12, Graham 9, Beckwith 5, Koepke 4. Assists (12) - Graham 11. Blocks (1) -K. Rittel. Steals (7) - Graham 5.Broersma 10, Bosma 0, Hoed 0, Halma 0, Banks 5. Rebounds (32) - Broersma 15. Harrington 4, Leifke 3. Assists (8) - Liefke 3, Martin 2. Blocks (2) - Liefke. Steals (5) - Candanoza 2, Liefke 2.