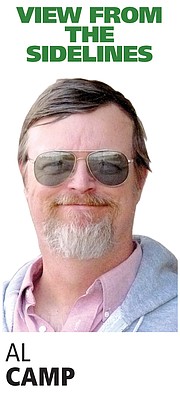 Alex Aguilar, an Omak High School graduate, finished seventh for North Idaho College at the NJCAA national wrestling tournament Feb. 24-25 in Council Bluffs, Iowa.
Aguilar, who competed at 174 pounds (he won five matches), is weighing where he wants to compete next year at a four-year college. He is majoring in nursing.
The finish qualified Aguilar as an All-American.
"Alex has been approached by four colleges that want him to come wrestle for them," said Omak assistant coach Dean Agee, who attended the tournament. "One college is a Division I school, but does not offer the schooling that he wants.
"Alex is thankful for everyone in Omak who has helped him on his journey, including all of his teachers. He will be coming home this summer to offer all of our youth a wrestling camp; giving back is one of this young man's strong qualities.
"It was really exciting to see him compete at the next level."
★★★★★
Sadie Bjornsen of Winthrop skied a strong leg on the U.S. 4x5K race last week at the World Championship in Lahti, Finland.
The four-skier team finished fourth, matching the best the U.S. women have finished in Worlds or Olympics.
Earlier, Jessie Diggins and Bjornsen finished third in the team sprint. Diggins and Kiki Randall grabbed silver and bronze in the freestyle sprint.
Kiki Randall skied the 5K class leg to lead off,
Randall was in fifth when she tagged off to Bjornsen, who used a terrific classic leg to pull the U.S. into fourth place, 24 seconds out of third.
"It was slightly intimi-dating because it's some of the better classic skiers in the world, but I tried to not think about that and just kept my eyes on the prize," Bjornsen said.
Lis Stephen kept the United States in fourth on a freestyle leg.
The Americans were about 22 seconds out of medal contention when Diggins took over. She narrowed the gap a bit, but never made contact with the lead group.
★★★★★
The eighth grade girls' basketball team at Bridgeport recently wrapped up a perfect 20-0 season.
What's even more amazing is that the team went 20-0 last year, too.
Look out Central Washington League, they will be a force starting next season.
★★★★★
A proposal was made Feb. 21 at the Grand Coulee City Council meeting to name a city park on Highway 174 the Shane Proctor Park.
Proctor, a 2003 Lake Roosevelt graduate now living in Mooresville, N.C., won the World Championship PRCA bull riding title in 2011.
He won the 2013 Built Ford Tough Series in PBR.
Proctor was the first bull rider to win a million dollars in both PRC and PRCA.
A vote was not taken at the meeting.
★★★★★
Additional information was received about the Tonasket High School state champion wrestling team and boys' basketball team, which reached the state 2B tournament.
The championship was the second for the school.
The boys' cross country team took first in 1977.
In basketball, Brayden Landdeck, a senior this year for the Tigers, and Parker Landdeck, who graduated last year and assisted this year, played at state 1A with Cashmere last year.
★★★★★
Projections by state Department of Fish and Wildlife and treaty tribes find 386,000 Coho salmon are expected in the Columbia River this year, similar to last year's forecast.
Only 223,000 actually returned to the Columbia River, where some Coho stocks are listed for protection under the federal Endangered Species Act.
About 582,600 fall Chinook salmon are expected to return to the Columbia River, which is similar to last year's actual return. While that's significantly lower than the record 1.3 million fish that returned in 2015, this year's forecast is considered a fairly good run of fall Chinook.
Roughly 260,000 "upriver brights" are headed for areas of the Columbia River above Bonneville Dam. The forecast for these fall Chinook is the lowest since 2009.
★★★★★
Looking for some racing action that doesn't cost anything to watch?
The annual Cub Scout pinewood derby, with the region's best racers, is planned for 10 a.m. March 18 at Choice Auto Sales in Omak.
District Chairman Dave Yarnell will again oversee the event that draws more than a dozen fast cars on a track with electronic timing and results.
★★★★★
The Oroville Gun Club's shoot Sunday was plagued by a broken trap and speaker equipment, which had worked perfectly a day earlier, and snow, reports Paul Schwilke.
"If it could go wrong, it did," Schwilke said. "Anyhow, most shooters had a good time and had some good scores."
Singles (16 yard) – AA – 44, Logan Farris. A – 46, Tom Holsworth. B – 47, Jerry Asmussen. C – Dick LaMonte 41. D – 36, Vern Cole. Lady – 39, Mae Thomas. Junior – 42, Brendan Asmussen. Sub junior – 33, Trevor Nessly. Vet – 44, Bob Crowell.
Handicap – 43, champion, Jerry Asmussen. 42, Tom Holsworth in a shoot off with Brendan Asmussen.
Doubles – A – 28, Logan Farris. B – 37, Don Calentine.
High overall – 125, Tom Holsworth.
★★★★★
Millie Jewell sent in an update on the pinochle players at the Okanogan Eagles, adding Buck Workman and Valerie Murray not only had 1,500 in trump with diamonds, but also had 300 pinochle.
That "doesn't happen very often," she said.
Feb. 28 scores: 85,80, Paul Steuermann. 7,450, Dee Tarnowski. 7,270, Buck Workman. 7,090, Lisa Turner.
★★★★★
The University of Washington took an 8-0 win over Washington State University in the inaugural Apple Puck hockey game Feb. 25 at the Winthrop Ice and Sports Rink.
More than 350 fans rooting for their respective schools (club teams) were reported to have shown up for the game.
The Huskies took home a papier mache trophy.
★★★★★
Road runners can mark their calendars for some Fit4Life runs, starting with Orchards in Bloom road race April 29.
Other coalition events include Hoofin' and Woofin' fun run April 30, Healthy Youth Fair July 8, Bike Rendezvous Aug. 26, Autumn Leaf Run Sept. 23, Zombie Fun Run Oct. 28, Turkey Tangle Nov. 18 and Jingle Bell Jog Dec. 9.
★★★★★
There is an outdoor long range silhouette match planned for Saturday at the Tonasket Gun Club.
Target setting and practice starts at 8:30 a.m., said Ralph Malone. Record firing starts at 9 a.m.
Al Camp is the sports editor at The Chronicle. He can be reached at 509-826-1110 or via email at sports@omakchronicle.com