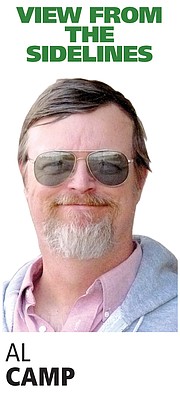 The second Loup Loup Community Challenge Relay drew 19 teams of three people each to the ski hill Saturday.
Teams competed in giant slalom (some on skis, some on snowboards), tube hill run up and slide down, and 3K Nordic course.
Teams with the fastest combined times won prizes.
First place, with a time of 9 minutes, 20.02 seconds went to HMS Destroyer that included Sydney Schuller on giant slalom, Hank Schuler on tube hill run and Mike Hutchins on Nordic
"The Destroyers won a two-night stay at Sun Mountain Lodge, equipment tune-ups and other merchandise from the Loup Loup Rental Shop," said hill manager CP Grosenick.
Second place (9:34.19) went to Good Grundage with Ben Goodman on giant slalom, Danielle Grundy on tube hill and David Grundy on Nordic. The second-place prize was a two-night stay at Rolling Huts, equipment tune-ups and other merchandise from the Loup Loup Rental Shop.
Third place (9:59.53) went to Snow White and the Two Dorks with Harold Sheley on giant slalom, Leki Albright on tube hill and Hanz Scholtz on Nordic. The team won gift certificates from Goat's Beard Mountain Supply, and equipment tune-ups and other merchandise from the Loup Loup Rental Shop.
Luke Sawyer, 7, and Cindy Metler, 68, won jackets from Methow Cycle and Sports as the youngest and eldest competitors, respectively.
Conditions at the hill on the weekend included temperatures in the low 30s with a 40-inch base.
"Everyone who registered won prizes and got a complimentary lunch," Grosenick said. "Noah Ashford provided dance music and lively commentary throughout the event. Plans are already under way for the 2018 Community Challenge Relay."
Other teams (GS, tube, Nordic): 4, Jorts, John Box, Madeleine Eckmann, Kristen Kirkby, 10:09.07. 5, Mouse Trap, Jarred Johnson, Heidi Dunn, Emily Lints, 10:11.91. 6, Lean, Mean, Kinda Slow, Kim Ambrose, Jill Sheley, Dave Turner, 10:24.21. 7, Sid's Birthday Suit/Show Us Your Taxes, Richard Pattison, Sid Pattison, Jen Schumacher, 10:34.79. 8, Ready – Kaufman, Ben Kaufman, Payten Kaufman, Danica Ready, 10:46.14. 9, Little Buck, Luke Sawyer, Lisa Sawyer, JT Sawyer, 10:48.76. 10, Slush Gators, Gabrielle Beaudry, Michael Gardner, Katie Griffin, 11:25.28.
11, Wooly Not So Mammoths, Carter Sheley, Graham Sheley, Stella Scholz, 11:26.26. 12, Sloggers, Cindy Metler, Ronnie Bange, Abby Pattison, 11:28.17. 13, Northern Wind, Desiree Bowes, Heidi Glackmeyer, Fred Glackmeyer, 13:40.17. 14, Snow Ninjas, David Huffstetler, Allison Lim, Roy Huffstetler, 14:34.87. 15, Team Simmons, Drew Simmons, Jennifer Simmons, Annie Simmons, 15:12.84. 16, Janely Bauston, Jane Bau, Finlay Weston, Rob Weston, 15:53.93. 19, We're Not Going to Win, Dalynn Floyd, Josh Thomson, Jennifer Floyd, 17:17.15. 18, Minecrafters, Caleb Simmons, Julianna Floyd, Isaac Simmons, 17:36.66. 19, Calbine, Calum Weston, Sabine Bau, Sandy Bau, 23:20.31.
★★★★★
Randy Clough was the top singles trapshooter at the Omak Fish and Game Club's championship on Sunday.
Clough knocked down 48 birds out of 50 for first in class AA.
Conditions included "lots of visiting shooters," no wind, 38 degrees, 50 targets for each even and silver buckle trophies, spokesman Dick LaMonte said.
High overall (133x150) was Forrest Tennant.
Singles
Class AA – 48, Randy Clough.
Class A – 47, Don Calentine in a shoot off.
Class B – 44, Tim Farmin in a shoot off.
Class C – 27, Dick Field.
Class D – 39, Dennis Fulford.
Veteran – 47, Bob Crowell.
Lady – 37, Mae Thomas.
Junior – 43, Junior Ordway.
Sub junior – 34, William Rice.
Handicap champion – 46, Dan Squires. Runner up – 42, Bob McDaniels.
Doubles
Class A – 47, Forrest Tennant.
Class B – 42, Jeff Ellenberger
★★★★★
Pinochle scores were down last Tuesday as some players apparently stayed away due to the snow or watching the Gonzaga men's basketball team competing for a conference title, spokeswoman Millie Jewell said.
Games are played at 6 p.m. Tuesdays the Eagles in Okanogan.
Top scores: 7,500, Dee Tarnowski. 7,420, Buck Workman. 7,410, Pat Byrd. 7,350, Mallory Murray.
"Everyone is welcome to play," Jewell said.
★★★★★
A service rifle competition clinic is planned for March 25 at the Riverside Sportsmen's Association.
"Everyone is welcome," spokesman Ralph Malone said.
There is a small cost.
Signup starts at 8:30 a.m.
"Current competitors are welcome to come for a refresher for free," Malone said.
★★★★★
O & O League softball signups will be from 5:30-7:30 p.m. through March 16 at the Oak Street field in OMak.
Registration forms will be available at the time of signups.
Al Camp is the sports editor at The Chronicle. He can be reached at 509-826-1110 or via email, sports@omakchronicle.com