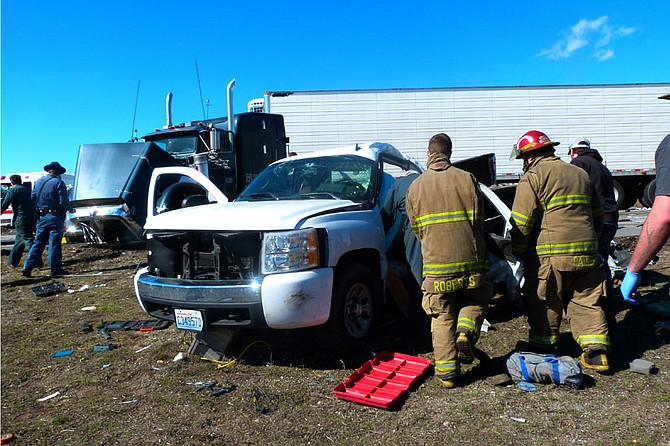 Photo by Al Camp
Update 03/17/2017 4:39 P.M.
OKANOGAN- An Okanogan couple died in a two-vehicle accident Thursday, March 16 on Highway 97.
According to the Washington State Patrol, William M. Province, 75, was eastbound on Armory Access Road, crossing Highway 97 to Cameron Lake Road. A tractor-trailer driven by 77-year-old Calvin M. Anderson, Waterville, was southbound on Highway 97.
According to the patrol, the vehicle collided in the intersection and Province's pickup truck came to rest in the northbound ditch. Province was announced decease at the scene, and his passenger, 87-year-old Isabelle Province was transported to Mid-Valley Hospital before being pronounced deceased.
The patrol said Anderson was not injured.
The patrol said the cause of the accident was failure to yield right of way.
Update 03/16/17 5 P.M.
OKANOGAN-Washington State Patrol troopers and the Okanogan Fire Department investigate a crash on Highway 97 around 2 p.m. March 16 in which a pickup truck and tractor-trailer collided at the intersection with Cameron Lake Road. The driver of the pickup and a passenger died in the accident, according to Trooper Brian Moore with the Washington State Patrol.
The patrol said the highway likely would be closed for at least a couple hours while the scene is cleared and the accident is investigated. There is a detour available using local roads. There is no estimated time for reopening the highway.