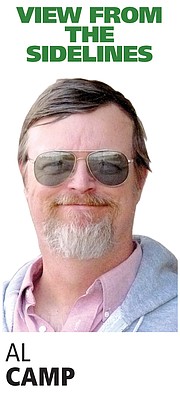 My NCAA basketball champion-ship bracket got filled out just as the first game tipped off Thursday.
But I did not rely, well, not too much, on color or mascot as discussed in last Sunday's column.
Those were variations on how my wife might put together a bracket, and does use picking the ponies.
I, instead, relied on some "out of the box" methods to get my bracket done.
First, natural selection, as I found it online, shows dogs (Go, Gonzaga Bulldogs) more often beating cats (take that Villanova, Kansas and Kentucky, my other Final Four teams), cats beating birds, birds beating bugs.
Any person has a chance, no matter how much or little they know of basketball, to create a great bracket and have fun doing it.
"Late Late Show" host James Corden, who didn't sing his picks in an online video for CBS, did fill out a bracket for the first time.
The British comedian used a Magic 8 Ball and Ouija Board, with a Final Four of Duke, Gonzaga, Kansas and UCLA.
Those are great picks!
Corden said he created his first bracket because "who better to fill out a bracket than someone from Britain who never went to university?"
"I picked Kentucky," he said, "cause of the chicken."
While writing this late Thursday, Middle Tennessee upset Minnesota. I got it right because I chose the school with the longest set of abbreviations (MTSU).
A bonus was the mascot, Lightning, a blue horse (only red can trump blue for winningest color).
Best way to bust a Chronicle bracket this year? Have Gonzaga lose before the Final Four. Man, just about everyone has them to the Four, if not to the title, and winning the whole shebang.
But if you still need to make a decision between say two teams with a primary color of red, and one mascot is not more fit than another (can a Leprechaun win a national title? nah!), then I went by the shoes.
I gotta say, if you like Blue and love the North Carolina Tarheels, you could come out a winner, since I think they have by far the best-looking shoe.
Now I used many other methods to discern winners. But in the end I could always rely on a flip of a coin.
For instance, you could seed an entire tournament by always choosing the higher-seeded team to win, or going with the team with the tallest head coach (Duke doesn't make the Final 4 this way), or the shortest head coach (Duke wins the national title), or looks (Virginia's Tony Bennett would have a lock on first), or most players headed to the NBA or the most players in the NBA (where was this when I picked SMU over USC?).
My son might pick teams by how well their band plays or takes a loss or a win.
A couple years ago there were memes of the Villanova piccolo girl crying after a devastating loss. The Wildcats took the title the next year (2016) and are one of the favorites (Top No. 1 seed) this year.
The most fun and quick way? Flip a coin.
Higher seeded teams, the double-digit ones, would be "heads" and lower seeds would be "tails."
Imagine Troy could get on a roll with five heads in a row. Wow, that would be fun, right? And that's what making a bracket is all about, fun.
Al Camp is the sports editor at The Chronicle. Email him at sports@omakchronicle.com.