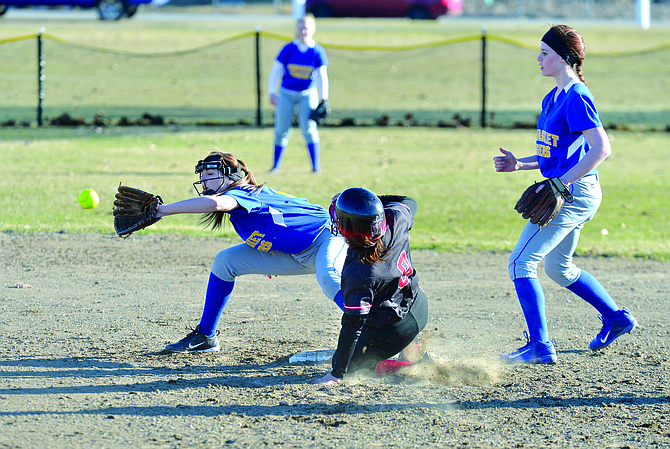 Photo by Al Camp
Omak leadoff hitter Trisha Priest slides into second base just ahead of a throw to Tiger shortstop Megan Powell during a game Thursday
OMAK – The Omak High School softball team shrugged off not being on dirt, except for two days, and knocked off Tonasket, 22-3, in a non-league game Thursday.
The Pioneers got out of a bases-loaded situation in the top of the first inning, in which the Tigers pushed across two runs.
Then the Omak bats pushed across three for a 3-2 lead when, with two outs, six more runs came across.
After going up 12-2 after two innings Omak ended the game with 10 runs in the fourth inning.
"We had a few mistakes that were expected," Omak coach Rick Duck said after both teams committed two errors. "We hit the ball fairly well."
Omak finished with 12 hits that included a grand slam home run by Nashoni Boyd in the big fourth inning.
"(Kodie) Duck and Priest were solid batting one and two, each getting 3 hits and 3 RBI," coach Duck said.
The Tigers finished with 5 hits that included two triples by Alexa Sutton (2-2).
"Trinity (DeJong) threw hard against us, but struggled a little bit with control (12H, 13BB, 5K)," coach Duck said. "Once she gets some more innings she will be tough.
"Our pitchers threw well. (Jamie) Utt (2IP, 3H, 3K, 2BB) and (LaCoda) Miller (2IP, 1H, 3K) gave us two solid innings each."
Rhaney Harris closed the final inning, striking out three while giving up one run.
Tonasket (3) – A. Willis 1-2; O. Sutton 2-3, 2B; L. Sutton 2-2, 2 3B.
Omak (22) – Priest 3-4, 3RBI, 3R, 2B; Duck 3-4, 3RBI, 3R, 2B; Boyd 1-2, 4RBI, HR, 3BB; Utt 1-4; Harris 1-3, 2R, 2B; Perry 2-3, 3R; Miller 3R, 3BB; George 1-1, 2R, 2RBI; Arciniega 2R, 2BB.
Okanogan 5, Brewster 2
BREWSTER – Okanogan jumped on Brewster early and took advantage of walks and errors to edge the Bears, 5-3, in a non-league baseball game Thursday.
"Once again, another evenly matched contest," Okanogan coach Ed Ashworth said.
Justin "Smoke" Stanley threw the first three innings.
"Smoke only gave up 1 hit and 1 walk on the day," coach Ashworth said. "The defense behind him did a decent job with standout plays from Dakota Fingar and Jacob Stanley. Dakota made a full lay out diving catch to save runs in center field and Jacob made a diving play in the middle of the infield to keep another run from scoring."
"Not the start to the season we wanted," Brewster coach Todd Phillips said. "I really think our guys need to come out and compete more. We don't have enough guys with enough of that killer instinct that you are just going to go for the jugular when it's exposed. That's something that needs to change if we want to be successful this season and in future seasons."
The Bulldogs went up 2-0 in the first inning,
Dakota Fingar reached on a one-out walk, stole second and came home on a Chase Rupert 2-out infield single. Then Chase Fingar drove home Rupert with a double.
"The three runs off errors in the third were the ones that hurt us," Phillips said.
Dakota Fingar started the scoring like he did in the first – getting on base with a one-out walk and stealing second before Conner Ashworth singled for an RBI.
Two errors, coupled with a single by Justin Stanley, led to two more runs.
Brewster responded in the bottom of the third with four straight singles – Logan McGuire, Joe Taylor, Isaac Baker and Jeff Sonneman – that led to two runs.
"Two base running errors resulted in outs during this inning or it may have escalated into something more," Phillips said.
"We started five freshmen and, yes, we made some mental errors but physically we were aggressive and gave confidence to our pitching staff," coach Ashworth said.
Alex Nelson threw the middle innings and gave up 1 hit, 1 walk, and 1 run.
Conner Ashworth pitched the final two innings, striking out 5.
"We have a number of players who will play multiple positions throughout the season, and because our club is athletic the staff is confident the boys will compete in whatever defensive position they are in," coach Ashworth said. "Our youth played a large part in the victory. Jacob Stanley, Will Clark, and Jarrett Smith each got their first varsity start."
Brewster got its final run in the fourth when Eric Martinez led off and stole second before Kade Kelpman and Caiden Riggan hit grounders to get Martinez home.
"We had the bases loaded in the seventh with one out," said Phillips, whose four and five hitters were then struck out. "Had our opportunities."
Okanogan finished with 7 hits and 3 errors to Brewster's 6 hits and 2 errors.
"I didn't do a very good job of getting us ready for this game, and it has nothing to do with the weather or anything else," Phillips said. "Just poor coaching. Okanogan did a good job of pumping strikes and forcing us to put the ball in play. And they took advantage of the fact when we did the opposite.
"We have to execute and score runners when we have them in scoring position with less than two outs. That just comes down to having guts."
Stanley picked up the win (3I, 2K, 1BB, 3H, 2R).
Kade Kelpman picked up the loss (3I, 7H, 2K, 2BB, 5R).
Prior to the game, Phillips discussed his team, saying it had been on the field starting a second week.
"We have the same expectations as we do every year, win a league title and compete for a state title," said Phillips of the class 2B Bears. "All of our guys but one played summer baseball this year, getting in 40-plus games. I think that will pay big dividends.
"We are going to be young, but we gained two seasons worth of experience over the summer. We have five returning all-league players, have 7 players returning who started 20 or more games and 2 others who were in the starting lineup at some point in the season."
Phillips said he expects competition from familiar foes Liberty Bell and Lake Roosevelt, which handed the Bears their only regular season loss last year.
He also expects Tonasket would be better (with the addition of Brayden Landdeck), Waterville could be a sleeper as it has made district the last two years, and is familiar with Soap lake after playing them in summer ball.
Okanogan (5) – C. Fingar 1-2, R, RBI, 2BB, 2B; D. Fingar 1-2, 2B, 2R, 2BB; C. Rubert 1-3, R, RBI; Ashworth 1-4, R, RBI; Ju. Stanley 1-3; Ja. Stanley 1-3.
Omak 3, Oroville 1
OROVILLE – The Omak High School soccer team abandoned its field and took a 3-1 victory against host Oroville on Thursday.
"The snow runoff is coming down on the field in the northeast and eastern part of the field," Omak coach Chris Werner said of the Pioneers' wet field at East Side Park. "On the south of the field where we have drifted snow, it may be a longer wait."
The Pioneers got goals by Nico Avena (3rd minute), Isaac Cervantes (23rd) on an assist by Alfonso Medina-Martinez and Avina 8 minutes into the second half on an assist by Dillon Carlton.
Matthan Hale, who opened in goal, finished with 9 saves.
Ramon Lopez wrapped up with 3 saves and 1 goal allowed.
Oroville scored in the 70th minute from about 6 yards out.
"I thought we played pretty well considering this was the first time on a full field this season," Werner said. "We did a good job attacking down the flanks and being compact in the first 60 minutes. As we got tired, the game began to open up. We need to improve here. Overall, I was happy with the win."
Oroville finished with 16 shots, 12 on goal compared Omak with 14 shots and 13 on goal.
Oroville finished with 11 saves.
Werner previewed his team by saying he has lots of players this year – 31.
"We will have both a varsity and junior varsity program," Werner said. "We have 8 returning starters with two all-league members returning with Matthan Hale and Nico Avena.
"We are looking forward to the season as we prepare both in the gym and outside. We have had more gym time than I have ever had in my five years of coaching the boys."
Okanogan 4, Liberty Bell 0
OKANOGAN – Okanogan blanked a short-handed Liberty Bell soccer team 4-0 in a non-league soccer match Thursday.
"We played well both offensively and defensively," Okanogan coach Dean Klepec said. "We did a good job of distributing the ball to many players, making runs to set up scoring opportunities."
In the first half, Dylan Streeter scored on an assist from Josue Ramos and James Colbert scored on an assist from Jose Gonzales.
In the second half, Streeter scored on an assist from Levi Veenhuizen and James Hamilton scored on an assist from Ramos.
The Mountain Lions played with two subs, and was down to one extra player at the end of the match due to a second-half injury.
"We only had 13 travel due to ineligibility and injuries," Liberty Bell coach Mike Baerveldt said.
Manson 2, Okanogan 1
MANSON – Okanogan fell 2-1 to Manson in a non-league soccer match Tuesday.
"We were a little tentative to begin with and Manson was able to get 2 goals on us in the first 20 minutes," Okanogan coach Dean Klepec said. "Then we started to settle in and played much better. We scored at the 30th minute (Josue Ramos on an assist by James Colbert)."
"We played well in the second half and created scoring opportunities but just couldn't score," Klepec said.
"Although the score line reflected a close contest, in reality Manson was dominant on the field and had more chances to score, including a shot off the crossbar in the second half from Jose Juarez," Manson coach Jared Mumley.
Manson scored in the 10th and 22nd minute.
"Manson looked strong in the first 30 minutes but toward the end of the first half, as legs began to get heavy, the Trojan midfield allowed an Okanogan player to run freely through the midfield and set up his teammate for the goal," Mumley said.
Cancellations
Several Tuesday competitions were canceled because of rain, including:
• Baseball, Okanogan at Lake Roosevelt was canceled due to field conditions.
• Tennis, Liberty Bell at Entiat (will be rescheduled) and Omak at Oroville.
• Also canceled was the Liberty Bell at Omak soccer match scheduled for Saturday after conditions on fields at both schools were not ready.