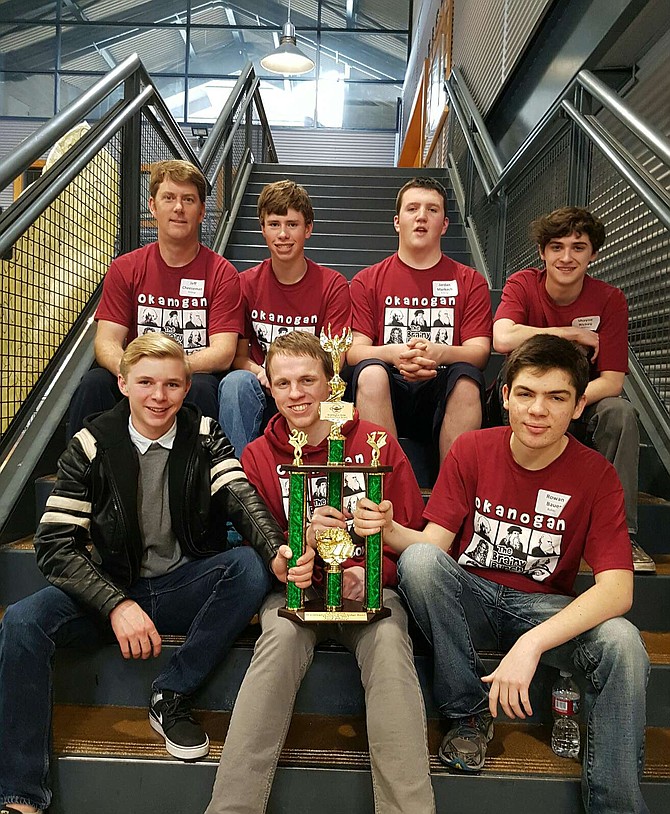 OKANOGAN HIGH SCHOOL
Okanogan High School's Knowledge Bowl team includes (front, from left) Blake Chesledon, Mason Duke, Rowan Bauer, (back) coach Jeff Cheeseman, Max Cheeseman, Jordan Marbach and Shayne Richey.
ARLINGTON – Teams from Liberty Bell, Tonasket and Okanogan all placed in the Top 3 in state Knowledge Bowl competition last weekend, with the Mountain Lions claiming the state title among 2B schools.
Liberty Bell placed first with 13 points. Private school St. George's, Spokane, was second with 11 and Tonasket placed third with 8 points.
In 1A competition, Okanogan placed second. The Bulldogs won five oral rounds in a row, but placed second to Cashmere in the finals.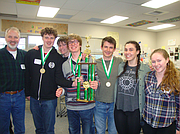 "Incredible performances by Sebastian Hogness, Nate Hirsch, Bram Wathen, Noah Batson, Corinne Dietz and Danielle Mot led our team to a two-point victory," said a Liberty Bell announcement.
"This year's season saw some of the most talented teams (Knowledge Bowl) has ever seen," said Tonasket coach Susan McCue.
"Our fiercest competitor, without a doubt, was Liberty Bell. All season, we have leap-frogged each other."
Out of the six meets for the 2B division during the regular season, the two teams split – with each winning three meets by close margins.
"At the state tournament, both teams won in their division and made (Knowledge Bowl) history," McCue said. "At this level of competition, scores are usually a few points apart. In our division we scored 138 points. The other finishing teams in our division scored 77, 71 and 68. Liberty Bell won their division with 139 points; the other qualifiers scored 94, 78 and 75."
Tonasket team members are Thomas Kennedy, Tawan Murray, Justin McDonald, Mandi Wilson, Zach Clark and Jessica Burke.
Okanogan coach Jeff Cheeseman said 18 teams competed in the 1A division, with teams plit into two sub-divisions. Okanogan placed first in its division over Port Townsend and Lakeside.
That seeded the Bulldogs into the finals with fellow Caribou Trail League competitors Cashmere and Cascade.
"I have never seen three schools from our region in the finals before," he said.
Cashmere finished with 20 points, Okanogan with 8 and Cascade with 6.
Okanogan team members are Blake Chesledon, Mason Duke, Rowan Bauer, Max Cheeseman, Jordan Marbach and Shayne Richey.