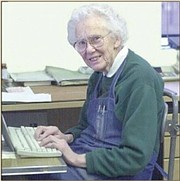 OMAK — Long-time columnist Elizabeth Widel, who has chronicled her life, travels and history of Okanogan County since 1957, died Tuesday.
Widel, who wrote her 3,000th column for The Omak-Okanogan County Chronicle on July 13, 2016, was 100. She continued to write her column, Exploring the Okanogan, up until her death. Her final column will appear in the Nov. 1 issue of The Omak-Okanogan County Chronicle.
"Elizabeth was a courageous woman who lived a long life filled with the beauty of Okanogan County and beyond," said Chronicle publisher Teresa Myers. "She will be missed."
A memorial service is scheduled for 11 a.m. Saturday, Nov. 4, at the Omak United Methodist Church, 130 N. Cedar St.