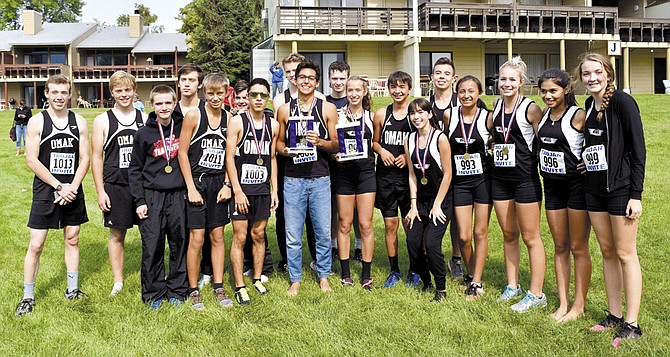 SEAN KATO/SPECIAL TO THE CHRONICLE
The Omak High School girls' and boys' cross country teams each finished first at the Manson Invitational on Saturday. Runners included (from left) Wyatt Thomas, Colton Cavier, Steven Zandell, Dawson Click, Evan Porter, Mason Holborn, Israel Escamilla, Josh Lester, Andrick Carroll, Alex Johns, Evangeline Lamb, Tyler Sam, Kassidy Carlton, Kyle Holborn, Caiden Chapa, Emily Little, Zintia Lopez, and Katie Walker.
MANSON — The Omak High School cross country teams opened their season zipping through a smoky course to bring home trophies Saturday.
"Despite a hazy smoke, the air quality was acceptable to run at Wapato Point," Omak coach Sean Kato said...