Featured photo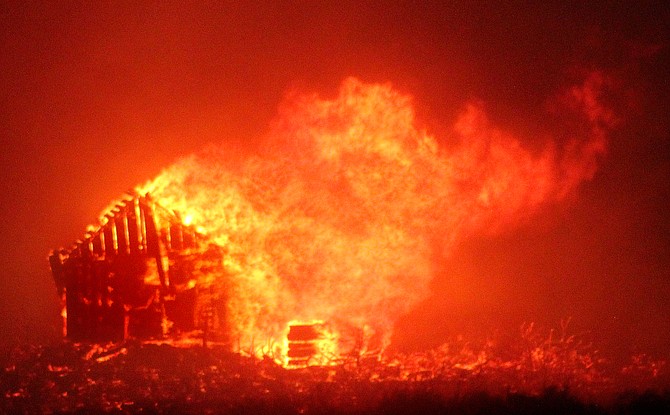 The historic Jack McKnight cabin in Chewiliken Valley burned last night as a wall of fire raced through the farming valley just outside Tonasket.


Commissioners hear about failings, successes of fight
People affected by the recent trio of wildfires praised and panned state and federal agencies' responses and the Okanogan County Department of Emergency Management during a post-fire meeting hosted by county commissioners last Thursday.
Due to decreased fire activity and traffic in the Kettle Complex fire areas, a portion of area closures have been lifted in the Three Rivers and Republic Ranger Districts.
Mayor Patrick Plumb is calling for change with the city's fire alarm.
Firefighters continue to improve a containment line around the Tunk Block fire and mop up a large unburned section within the perimeter.
An Omak woman has been sentenced to nearly a year and a half in prison and 18 months of community custody supervision for second-degree arson, domestic violence-harassment and domestic violence telephone harassment.
The Ferry County Sheriff's Office along with the state Department of Transportation and the Colville Confederated Tribal Police, announced the full opening of state Highway 21 between Republic and Keller earlier today.
California Interagency Incident Management Team 5 will transfer command of the Okanogan and Chelan Complexes at 6 a.m. tomorrow to a Type 2 incident management team — Pacific Northwest Team 3 — and a national incident management organization.
The Thirteen Mile and Hall Creek areas of the Colville National Forest's Republic Ranger District have reopened east of state Highway 21 and south of state Highway 20.

Fire managers expect the Tunk Block Fire to be more active today, with flames backing under the forest canopy.

The Okanogan County Fair Advisory Committee will advise Okanogan County commissioners to allow the fair to take place Sept. 24-27 at the fairgrounds, 175 Rodeo Trail Road.

Poll shows postponed event better than no fair
The Okanogan County Fair Advisory Committee will meet tonight for a showdown over whether to move the Okanogan Complex fire camp, or postpone or cancel the organization's signature event.
The perimeters of the Kettle Complex fires remain unchanged although warmer temperatures and lower humidity resulted in increased fire behavior yesterday.
Cooler temperatures and higher humidity continues to help fire crews gain the upper hand on the Kettle Complex fires burning in Ferry County.
Fire crews are transitioning to mop-up and timber falling operations as the Tucannon Fire reached 70 percent containment.
Infra-red flight data taken last night shows the Carpenter Road Fire has grown to 64,419 acres, fire officials said this morning.
Previous Next

Current NW fires