Featured photo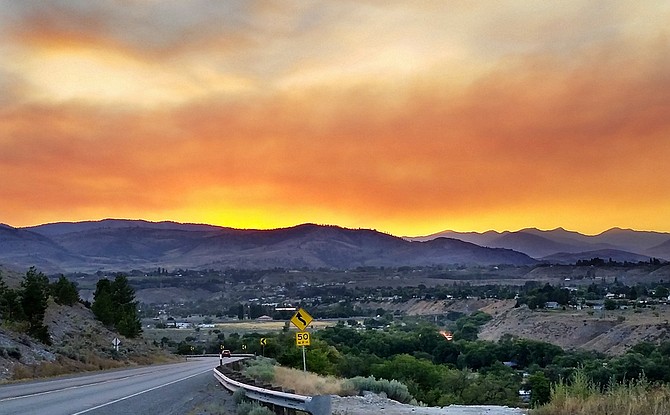 Smoke from the Wolverine Fire burning on the southwest shore of Lake Chelan hovers over the Okanogan Valley at sunset Thursday, giving an ominous orange glow to the evening sky.

The Baldy Fire has grown to about 300 acres in the last 48 hours in Pend Oreille County, Colville National Forest officials said.

Ash from Wolverine Fire reported falling in Methow Valley
The Wolverine Fire exploded yesterday, growing to more than 15,760 acres and prompting evacuations by boat and by helicopter.
Holden Village evacuated
Smoke that has been drifting in and out of the Okanogan Valley for the past several days is from the rapidly growing Wolverine Fire in Chelan County.
North Okanogan County residents will likely notice more smoke emanating from the Newby Lake Fire, but officials say the fire perimeter is secure.
The North Boulder 2 Fire is burning in heavy timber and had already consumed about 280 acres in Colville National Forest.
Fire expected to reach Pacific Crest Trail; officials post detour for backpackers

Level 3 evacuations ordered for Riddle Creek and Lightning areas; Holden Village and Lucerne will receive Level 3 notices tomorrow
A Fire Weather Watch will be in effect from 2-11 p.m. for the Wenatchee Valley, Waterville Plateau and Grand Coulee area. And a Hazardous Weather Outlook has been issued for Ferry County and the Okanogan Highlands through next Wednesday.
A new fire is burning about 1,000 feet above Five Mile Camp near Goode Mountain in the Lake Chelan National Recreation Area.
State officials close state Highway 395 between Clayton and Loon Lake due to brush fire.
Fire crews are battling a new brush fire southwest of town.

Wildhorse fire reaches 185 acres on Mount Hull
Fire continues to burn on Mount Hull as a new fire pops up near Bonaparte Lake

Firefighters work burn for about an hour
The state Department of Transportation has reopened Interstate 90 between Vantage and George as wildfire activity moves way from the highway and smoke dissipates.
Pilot auto-rotates aircraft to the ground and safely walks away from crash landing after engine failure.
Previous Next

Current NW fires