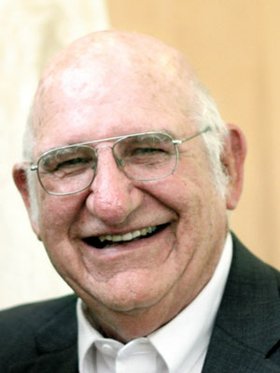 Walter "Big Papa" Roys
August 4, 1938 - July 31, 2013
Walter Roys (Big Papa), 74, surrounded by his family, went home to be with the Lord on Wednesday, July 31, 2013, after a battle with cancer. He was born in Wenatchee, Wash. on August 4, 1938, to Clinton and Jennie Lilly Roys.
Walt spent his early childhood in the Bridgeport area while his father worked on the area dams. In 1954, the family moved to Brewster where he graduated from Brewster High School in 1956.
Walt earned his BS in Ag Education. In 1966, he received his Master's of Education from WSU. Upon graduating from college, Walt taught six years in Mansfield, moving to Waterville, where he spent two years as a principal. Walt's last 22 years in education were spent serving as the principal of his alma mater, Brewster High School.
Upon retirement, Walt continued to do what he loved most, FARM, growing apples and hay. Walt met his beloved wife, Arlene, at Conconully Bible Camp in 1956. They were married on July 3, 1958, in Tonasket, Wash. Walt was an active Kiwanis member, serving in many leadership positions. In 1983, he was selected District 7 Administrator of the Year. In 1984, Walt was inducted as an honorary member of the Washington Sate Future Farmers of America. He was a member of the Ag Honorary Alpha Epsilon. For many years, Walt attended the Community Log Church in Brewster and was very active in serving the community, inside and outside of the church body. At his passing, he was an attendee of the Pateros Community Church.
He is survived by his wife of 55 years, Arlene, of the home; two daughters, Dianne Roys Johnson, and Debbi and husband, Lee, Joyner of Brewster; one son, Tom and wife, Nadine, Roys of Arlington, Wash.; and one adopted son and daughter, Don and Jenny Wyler of Kenmore, Wash.
Many children went through the Roys' home and were treated with the same love and respect as his listed children.
Walt has 15 grandchildren whom he loved very much: Jason and Nicole Johnson, Justin and Kaci Johnson, Jessica Johnson, Joshua and Amber Johnson, Jonathon Johnson, Chelsea Roys, Katrina Roys, Kaely and Michael Fisher, Matthew and Patty Fisher, Kara Joyner, Kyle Joyner, Kandice Joyner, Seth Wyler, Sara Beth Wyler, Jenelle Wyler, and Johanna Wyler. He has four great-grandchildren, Mylie Johnson, Ryker Deliyiannis, Alexandria Johnson, and Anaiah Johnson.
He is also survived by his two sisters, Carol and Jay Grinnell of Roy, Wash, and Glenda and Mel Cook of Nampa, Idaho; and a brother, Dave and Jennie Roys of Yakima, Wash. There are numerous nieces and nephews who were loved by him.
He was preceded in death by his parents, Clinton and Jennie Roys.
A memorial celebration of Walt's life will be held at 1:30 p.m. on Friday, Aug. 9, 2013, at the Seventh Day Adventist Church in Brewster. Walt held a passion and a very special place in his heart for Conconully Bible Camp. It is his families' wish that in lieu of flowers, memorials be made to Conconully Bible Camp, PO Box 1312, Omak, Washington 98841.
Services entrusted to Barnes Chapel.