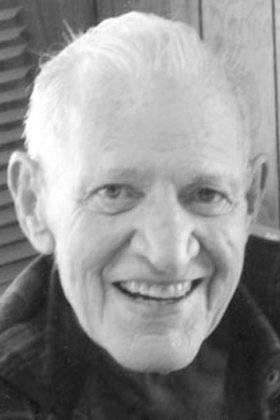 Arthur "Stan" Stanley Harriman
East Wenatchee, Wash.
November 25, 1925 - July 28, 2013
Arthur Stanley Harriman was born Nov. 5, 1925, in Omak, Wash. to Glenn and Winifred Harriman. He passed away July 28, 2013, at his home in East Wenatchee.
Stan graduated from Omak High School and attended Eastern Washington State College, where he played football and basketball. He was co-owner of the Meadowmoor Dairy in Omak and lived there until moving to Peshastin, Wash.
Stan was very active in the community of Omak, belonging to the Omak Boat Club; The Ghost Riders Horse Club; Boy Scout Troop 25, where he was assistant Scout Master; The Washington State Dairymen Association; and the Omak Elks Club, where he served as Exalted Ruler. He was an avid big game hunter and had many trophies from his hunting trips in Alaska, Idaho, Washington, Montana and Wyoming. When Stan and his wife, Mary Ellen, moved to Peshastin, they became involved in the Chumstick Grange and camper groups.
He was preceded in death by his parents; his sister, Murial Watts; and his wife, Mary Ellen.
Stan's great sense of humor, his twinkling blue eyes, and his love and pride in his family will be remembered and missed by his many friends and family.
He is survived by his sister, Glenda Freel of Omak; and his children and step-children, Jan and Dennis Schuerman of Spokane, Jeff and Margaret Harriman of Ohio, Kim Harriman and Cassie Pruitt of Tonasket, Randy and Noreen Betz of Peshastin, and Jeri Freimuth of Wenatchee; 14 grandchildren, Alex and Nick Schuerman, Staci Hazelbaker, Brad and Rocky Harriman, Elizabeth Oliver, Matt Harriman, Maria Errico, Pat, Chris, John and Dan Betz, and Mike and Ryan Freimuth; and 18 great-grandchildren.
There will be no formal services; however, an open house, in memory of Stan Harriman will be held at the Chumstick Grange Hall, 621 Front Street, Leavenworth, WA, on Friday, Aug. 30, 2013, from 2-4 p.m.