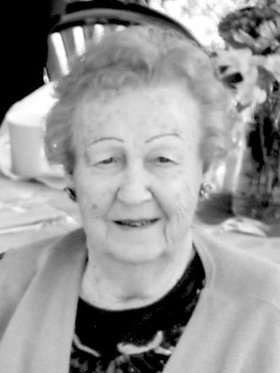 Edna I. Wood
Okanogan, Wash.
unknown - August 14, 2013
Edna I. Wood, 92, of Okanogan, Wash., died Wednesday, Aug. 14, 2013, at her home.
She was born in Leavenworth, Wash., and she grew up and graduated high school in Riverside, Wash.
Marrying Clarence 'Lefty' Wood in 1938, she moved to Okanogan, where she worked at Blackwell Department Store. Over the years, they ran two dairies, an apricot orchard, raised Quarter Horses and four children. Edna also worked at the Okanogan Rexall Drug Store and for 31.5 years at the WDOT office in Okanogan.
She is survived by her daughter, Gaye Wood of Oregon City, Ore; two sons, Gary Wood of Omak, Wash., and Rick Wood of Emmett, Idaho; ten grandchildren; and 25 great- and great-great grandchildren.
Her husband, Clarence 'Lefty' Wood and her daughter, Joy Norman, both of Okanogan, preceded her in death.
She loved God, her family, her friends and her home. She spent her retirement enjoying all four.
Graveside services were held at 11:30 a.m., Saturday, Sept. 7, at the Okanogan Cemetery.
In lieu of flowers, memorial contributions may be made to the Okanogan United Methodist Church or The National Breast Cancer Research Center.