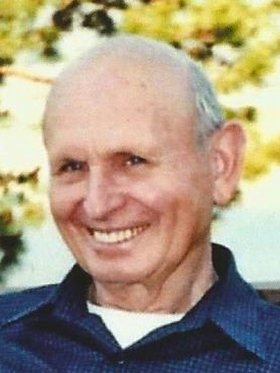 James E. Shove
Omak, Wash.
February 5, 1931 - August 20, 2013
James E. Shove, 82, passed peacefully in his home with family at his side on Aug. 20, 2013. Jim was born Feb. 5, 1931 to Ira H. and Dorothy A. (Leese) Shove in Rathdrum, Idaho.
His parents moved to Washington when Jim was very young. They lived in the Moses Meadow area until it was time for Jim to attend school. The family moved to Omak where Jim graduated from Omak High School in 1949. He served his country in the U.S. Navy from 1951 until his honorable discharge in 1954. After serving in the Navy, Jim made California his home for the next 11 years of his life.
He married Agnes I. Miller in Sacramento, Calif., on May 31, 1959. Both Jim and Agnes worked for Aero Jet General Corp. in California for ten years. He and Agnes moved back to Omak in 1965. Upon their move, Jim worked for the Omak Lumber Mill in the woods department for 27 years, retiring in 1993. Aside from his work in the lumber industry, Jim was well known as an avid horseman. He raised and trained horses for much of his life as well as being an excellent farrier for 22 years. Personal interests also included fishing, horseback riding, and very few held the knowledge and love for country western artists and their music, as did Jim.
He married Emily R. Carlton July 17, 2004 in Omak.
Jim is survived by his wife, Emily; and one brother, Delmar L. Shove; and wife, Sallye; several nieces, nephews; and his step-children, Dennis (Nancy) Carlton of Omak, Gary (Claire) Carlton of Madras, Ore., and Deanna (Greg) Tangen of Sandpoint, Idaho. Jim was loved and adored by his 7 step-grandchildren and 10 great-grandchildren. He was preceded in death by his parents; sister, Betty Taylor; and brother, Raymond Shove.
Services will be held at 11 a.m. at the Omak Community Presbyterian Church, 9 South Birch, Omak, Wash. on Saturday, Aug. 31, 2013.
In lieu of flowers, donations may be made to Hospice of Okanogan County, the American Cancer Society, or a charity of choice.
Precht-Harrison-Nearents Chapel and the Okanogan Co. Crematory LLC are caring for the arrangements.