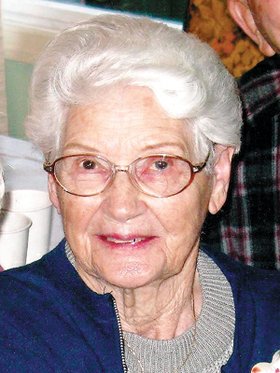 Helen Margaret Swayze
Omak, Wash.
November 14, 1916 - June 25, 2013
Our beautiful mother, Helen Margaret Swayze, left this world to be with our Lord and Savior on June 25, 2013. Helen was born to Mary Fleischman and Pete Kaufman on Nov. 14, 1916 in Uniontown, Wash.
When Helen was two, the family moved to Happy Hill and then to Omak when she was nine.
Helen attended and graduated from Omak High School.
She married William Swayze on Nov. 28, 1935. They had eight children: Carol, Carlos, Peter, Dennis, Margaret, Mary, Catherine and Patricia.
Helen worked many years at various apple packing sheds. She belonged to St. Agnes Church then Our Lady of the Valley Catholic Church in Okanogan. She was a member of the Guild and was very active in the Church.
Mom and Dad raised big gardens and canned everything. Mom sang as she worked and was never happier than when she had the whole family together at the table for a big dinner.
She was preceded in death by her parents, Mary and Peter Kaufman; husband, William (Bill); sons, Carlos and Peter; and brothers, Joseph, Bernard, Lawrence, Gilbert and Theodore.
She is survived by her daughters, Carol Swayze, Margaret and Lavern Ayers, Mary and Steve Fletcher, Catherine and Alan Harner, and Patty Richmond; son, Dennis and Carol Swayze; sister, Anna Jackson; daughter-in-law, Sharon Swayze; 18 grandchildren; and numerous great- grandchildren and great-great- grandchildren. She will be missed by all.
Rosary Services will be held at 7 p.m. Friday, July 5, 2013, at the Our Lady of the Valley Catholic Church. Mass Services will be held at 10 a.m. Saturday, July 6, at the Our Lady of the Valley Catholic Church. Interment to follow at the Okanogan City Cemetery.
Precht-Harrison-Nearents Chapel has been entrusted with the arrangements.