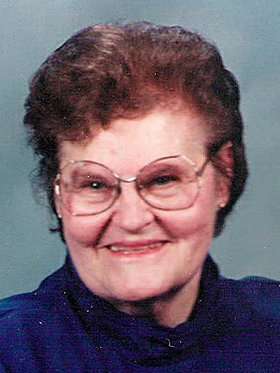 Kathryn "Kay" A. Harris
Tonasket, Wash.
January 13, 1922 - July 1, 2013
Kathryn A. "Kay" Harris, 91, of Tonasket died on Monday, July 1, 2013 at her home in Tonasket. She was born January 13, 1922 in Ellwood City, Pennsylvania to parents Harry and Gertrude Richardson.
In 1933, the family moved west in search of work and settled in Boise, Idaho, where Kay grew up and graduated from high school. On November 1, 1946, she married John P. Harris in Boise. Together they made their home in Boise where Kay worked in the dry cleaning business for many years.
Kathryn was an accomplished bowler, winning the Idaho State Women's Scratch Tournament three separate times and winning the Northwest Region Women's Scratch Championship once. She loved to teach her kids and grandkids how to bowl.
Following retirement, John and Kay moved to be near a son and family. They later moved to Tonasket where they made daily visits to Whistler's Restaurant.
Kathryn was a member of the V.F.W. Auxiliary and the International Bowling Association.
She is survived by her daughter, Jeanne (Pete) Fulfer of Lowman, Idaho; two sons, Bob (Penny) Harris of Tonasket, and Steve (Janice) Harris of Portland, Ore.; a brother, Harry Richardson of Boise, Idaho; two sisters, Evelyn Fraizer of Caldwell, Idaho, and Merle Schmidt of Phoenix, Arizona; 11 grandchildren; 17 great- grandchildren; and 11 great-great-grandchildren
She was preceded in death by her husband, John, in 2010; and one sister, Jeanne Stearns.
Graveside services will be held at 9 a.m. on Friday, July 5, 2013, at the Tonasket Cemetery.
Memorials may be made to the Salvation Army.
Please share your thoughts and memories by signing Kay's online guestbook at www.berghfuneralservice.com.
Bergh Funeral Service of Oroville/Tonasket was in care of arrangements.