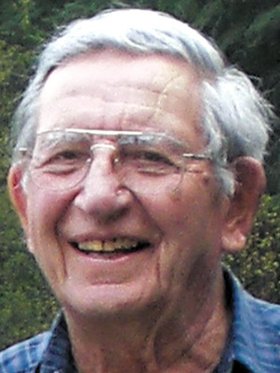 Tom McKay
Spokane, Wash.
May 21, 1919 - July 1, 2013
Tom McKay passed away on July 1, 2013, at the Spokane Veteran's Hospital. Louise, his wife of nearly 72 years, was by his side.
Tom was born in Plains, Montana on May 21, 1919, the fifth child of John F. and Christie McKay. In 1932, the McKay family moved to Spokane, Wash., where Tom attended Havermale Jr. High and North Central High School. In 1937, Tom graduated from North Central and the next year enrolled at Eastern Washington College of Education.
He met Louise Strosnider and they married on August 17, 1941. In the spring of 1944, Tom was drafted into the infantry. He was wounded in action on June 9, 1945, on Okinawa. After Tom returned from the war, the family moved to Curlew where Tom taught school and then moved to Cheney where Tom received his Master's Degree.
In 1958, the family moved to Omak, where Tom taught sixth grade and Louise taught third. Tom was active in politics and the Okanogan County Historical Society. After retiring from teaching, Tom and Louise moved back to Curlew in 1981, where Tom built a beautiful home from cedar logs he cut down and sawmilled on his one-man sawmill.
Tom was active in the Democratic party, was president of the Ferry County Historical Society, and was very involved in the renovation of the historic Ansorge Hotel in Curlew.
He is survived by his wife, Louise; daughters, Colleen McKay (Kenneth Izutsu), and Nancy McKay (Kent Richardson); his son, Tom McKay (Loretta); and five grandchildren, Tom Amend, Kellie Cardwell, Kerrie Cardwell, John McKay and Michael McKay. His daughter, Christie McKay Cardwell, predeceased him in 1991. His brother, Gene McKay, and sister, Ann Ohler, live in Spokane.
Services will be held on July 10, 2013, at 1:00 p.m., at the Hennessey-Smith Funeral Home at 2203 North Division, Spokane, Wash. Donations may be made in Tom's memory to the Ferry County Historical Society, 15-2 N. Kean Street, P.O. Box 287, Republic, WA 99166, or the VAMC Spokane Voluntary Service, Spokane VA Medical Center, 4815 N. Assembly St., Spokane, WA 99205.