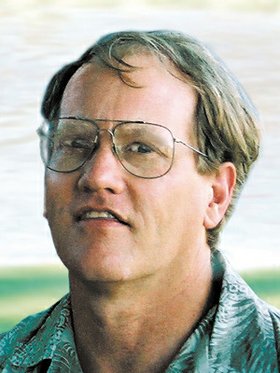 Steve Carlton
Okanogan, Wash.
November 5, 1955 - July 7, 2013
Steve Carlton, 57, of Okanogan, passed away on July 7, 2013 in Seattle, Wash. Steve was born November 5, 1955 in Omak Wash., one of four children to Darrell and Dorothy Carlton.
Steve was an accomplished businessman, the founder and owner of Valley Transmission in downtown Okanogan. Steve's success in auto-mechanics was largely due to his extraordinary work ethic, endless fascination with how things work, and in his own words — his "good looks". From a young age, Steve showed an interest and talent for fixing gadgets. He began doing mechanical work for Biles-Coleman following his graduation from Omak High School in 1974. When the mill shut down in 1982, he saw it as an opportunity to start his own business. He got a foothold working on his own at Don and Billie Delfield's shop and moved into his own facility when his growing business demanded more space. His venture grew into Okanogan Valley's most trusted auto-mechanic shop. Valley Transmission recently celebrated its 30 year anniversary.
Steve had a great love for the backcountry, and found that snowmobiling was a great way to explore nature during the winter months. He was an avid golfer, and frequented Okanogan Valley Golf Club on the weekend and evenings. Steve had a number of other interests, including relaxing at his cabin in Conconully, riding his motorcycle, watching football and spending time with friends and family.
Steve was an important fixture in the Carlton family. For many years, Steve would visit his parents' house every day to share lunch and conversation (and to pick up laundry that his mother Dorothy had washed for him). Until her passing, Steve took long Sunday drives with his grandmother, Mabel Carlton, to enjoy the scenery of Okanogan County. He took an active role in the lives of his nieces and nephews, and being a real jokester, managed to convince most of them that WWF wrestling was real. Steve's playful nature was something that was appreciated by his family, and most recently his great-nieces and nephews.
He is survived by father, Darrell Carlton; sister, Debbie Fenno; brothers, Greg (Sue) Carlton, and Brian (Janice) Carlton; nephews, Richard (Desi) Carlton, Dennis (Mallory) Carlton, Eric (Laurel) Carlton, and David Carlton; nieces, Sara (Dominic) Lindauer, Jennifer (Brad) Christie, Melissa Fenno, and Michelle Fenno; as well as 14 great- nieces and nephews.
He was preceded in death by his mother, Dorothy Sprowl Carlton; paternal grandparents, Walter and Mabel Carlton; and maternal grandparents, William and Ella Sprowl.
Steve loved animals, particularly his deceased dogs, Robo and Eek. To honor Steve, the family requests that donations be made to Keystone Animal Rescue in lieu of flowers. Keystone Animal Rescue, 382 Keystone Road, Riverside, WA 98849
A Celebration of Life will be held at 2:00 p.m., Saturday, July 13, 2013, at the Cornerstone Christian Fellowship in Omak, Wash.
Precht-Harrison-Nearents Chapel and the Okanogan County Crematory, LLC, both of Okanogan, are in care of the arrangements.