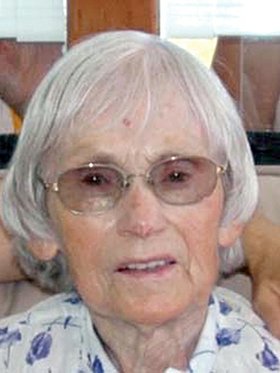 Frances Carrier Lamberton Love
Omak, Wash.
July 20, 1917 - July 8, 2013
Frances Carrier Lamberton Love was born July 20, 1917 in Portland, Ore. She was the youngest of six children and lived during her growing-up years in the Yakima Valley.
Her husband, Forest Lamberton, died of cancer at age 60. She later married an old family friend named Edward Love, with whom she lived happily until his death in 1996. For many years, she lived alone in her house on Hospital Way in Brewster, Wash. Most recently, she was living at the Welcome Home Villa in Omak.
Frances entered into rest on July 18, 2013, two days before her 96th birthday. She is survived by a son, Lowell Lamberton of Bend, Ore., and daughter, Laura Celia Hiob of Okanagan Falls, British Columbia. She is also survived by five grandchildren and 13 grandchildren.
She will be greatly missed by many relatives and friends.
A service will be held at 11 a.m., Tuesday, July 23, 2013 at the Seventh Day Adventist Church in Brewster, Wash. A graveside service will follow at the Brewster Cemetery.
Precht-Harrison-Nearents Chapel of Okanogan is caring for the arrangements.