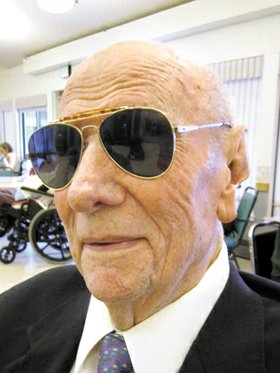 George Albert Wickstrom
Tonasket, Wash.
February 23, 1921 - July 18, 2013
George Albert Wickstrom died peacefully on July 18, 2013, at North Valley Extended Care in Tonasket. He was born Feb. 23, 1921 in Douglas, Ariz. to Albert Wickstrom and Ellen Nordstrom Wickstrom.
George grew up in Douglas, and then attended the University of Arizona. He excelled both in academics and sports, particularly football, and received the Freeman Medal in 1942, an award given each year to the outstanding member of the Senior Class. He received a Bachelor's Degree in Agricultural Chemistry.
Upon graduation, through ROTC, he also received a commission in the US Army. He served as a Captain in the Armored Cavalry during WWII, and saw combat in France and Germany, including the Battle of the Bulge. He was in charge of the Honor Guard for the funeral of General George Patton.
In 1942, he married Bonnie Meredith, his high school sweetheart. They had one son, Greig. George returned to the University of Arizona after the end of the war and received a Master's degree in Agricultural Chemistry. He worked for the American Potash Institute, both in the Midwest and in the Pacific Northwest.
In 1965, George lost his vision completely. He surmounted this loss through diligent effort, and besides developing and running his own business selling plant and soil testing kits, he regularly accomplished tasks difficult for even a fully sighted individual. He loved fishing, and continued to pursue that hobby until very late in life. Once, when a clerk offered to sell him the disabled Hunting and Fishing license for the same price as fishing only, George remarked "Oh, don't bother, cause I just can't seem to get anyone to go hunting with me."
In 1981, his first wife, Bonnie, died of lung cancer. Later that year, George married Mary Henze. The Wickstrom and Henze families had been friends since 1952, and Mary had lost her husband several years earlier. It was a wonderful marriage that endured for 25 years until Mary's death. Together, Mary and George traveled the United States and the world. In 2000, they moved to Tonasket to be near Mary's son, Walter, and his family. It was a very happy period in their lives. In 2004, George and Mary moved to North Valley Assisted Living. In 2009, George moved to North Valley Extended Care (NVEC).
After his death, the NVEC staff was uniform in their assessment: "George was such a gentleman." He was an inspiring father and grandfather, had a fine sense of humor, and was a great raconteur. His memory faded during his last several years, as did his hearing, and he was confined to a wheel chair. But despite these limitations, he was always up for lunch at The Kuhler for a beer and onion rings.
George was a member of Phi Gamma Delta Fraternity, the Arizona Bobcats, a member of the congregation of Trinity Episcopal Church in Oroville, and a staunch Republican.
George is survived by his son, Dr. Walter Henze, (Sarah Kaiser) of Tonasket; his daughter, Dr. Catherine Henze (Chris Larson) of Green Bay, Wis.; three grandchildren, Talia Tittelfitz of Seattle, Wash., Dr. Daven Henze of Boulder, Colo., and Jamie Speegle of Orlando, Fla.; one great- grandchild, River Speegle, also of Orlando; and one niece, Cicely Overman of Los Angeles, Calif.
He was preceded in death by his parents; his wife, Mary; one sister, Ruth Overman of San Diego, Calif.; and his son, Greig.
George will be interred at Arlington National Cemetery where there will be a graveside service.
Memorials may be sent to North Valley Extended Care, 22 West 1st Street, Tonasket, Wash. 98855
Bergh Funeral Service of Oroville/Tonasket is in care of the arrangements.