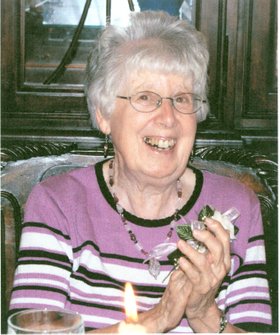 Amy Teru Kellog
Richland, Wash.
October 14, 1925 - July 1, 2013
Amy Teru Kellogg, a former resident of Omak and Wenatchee, died on July 1, 2013 at her residence in Richland. Amy was born on October 14, 1925 in Cloverland, Wash. to Daniel and Louise Swartz. She was the first of their five children. Amy settled in Tonasket, Wash. for her high school years. There she met Orville William Kellogg. She and Orville attended Seattle Pacific College and the University of Washington, where she graduated with a B.S. in Nursing. They were married in Snohomish, Wash. in 1945.
Moving to Omak, Orville was a High School Science Teacher, and she was a Registered Nurse at the local hospital. They were very dedicated followers of Jesus Christ, and served in many capacities in the Omak Free Methodist Church through all of the years in Omak.
Amy and Orville had three children: Dan (Nancy) of Newcastle, Wash.; Doug (Virginia) of Richland, Wash.; and Amy Louise (who preceded her in death). She was also preceded in death by her husband, Orville; one grandson, Bernard; her parents; and two of her siblings. Amy had eight grandchildren and step-grandchildren, and ten great-grandchildren. She loved her family very much. Her great joy was time that she could spend with members of her family.
She is also survived by her sister, Ruth E. Fenison (Joe) of Omak; and her brother, W. Warren Swartz (Gladys) of Coeur d'Alene, Idaho; and many nieces and nephews.
Amy enjoyed a wide circle of friends throughout her life. One of her favorite sayings on her wall was: "If friends were flowers, I'd pick you."
Being informed that she had terminal cancer, she accepted the news with grace and dignity. Her reaction was to declare her confidence in her salvation through faith in Jesus Christ, and the sure knowledge that in death she would pass into eternal life in the presence of her Savior. This spirit of confidence in God, her Heavenly Father, was the hallmark of her life until the very end.
A graveside service will be at the Okanogan Memorial Gardens, Conconully Highway, on Saturday, Oct. 19th at 11:00 AM. A luncheon will follow at Cornerstone Christian Fellowship on Riverside Drive, Omak.