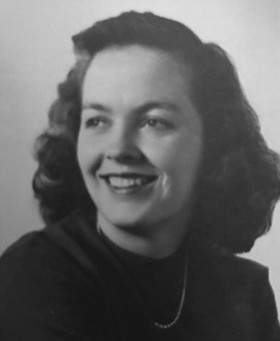 Amber Jean Oaks Lockett
Tonasket, WA
January 1, 1928 - August 23, 2017
Amber Jean Oaks Lockett was born Jan. 1, 1928 to Hazel and Harold Oaks in Tonasket, Wash. She passed away Aug. 23, 2017 peacefully in her home.
Amber graduated from Okanogan High School in 1946, and graduated from Whitworth with a B.A. in teaching in 1951. Amber received her master's degree in counselling and guidance from Whitworth in 1971.
Over the years she worked as a teacher, counselor, and child therapist for DSHS. Amber and Joseph Smith were married Aug. 21, 1950, and were blessed three beautiful children: Michael Smith, Maralee Greer, and Martin Smith. 
She married Kenneth Lockett in 1982 and was thankful for two step-children, James Lockett and Nancy Lockett. Amber was a generous, caring and loving mother and grandmother.
She participated in the lives of her children and grandchildren regularly. Attending sporting events, birthday parties, baking cookies, doing crafts, shopping and going out to lunch were fun activities her family enjoyed with her. Throughout her life Amber enjoyed sports and activity. She played on the basketball team at Whitworth during college and then regularly played golf and was a part of a bowling league for many years. She enjoyed serving others and traveling with her family.
She is survived by her three children; Michael Smith (Janice), Maralee Greer (George), Martin Smith (Leslie), 2 step children; Jim Lockett (Grace), Nancy Lockett; six grandchildren, and nine great-grandchildren, who were the light of her life.
She is also survived by her sister, Carolyn Clayton of Okanogan; and her niece and nephew, James Tweden and Karen Coates.
If desired, memorial donations could be made to Whitworth University as she loved and appreciated her time there, and donated as often as she could.
A celebration of life will be at 11 a.m. Sept. 1 at Peaceful Valley Church, 201 Allen Rd, Elk, WA. Burial will be at Okanogan Cemetery at 11:30 a.m. in Okanogan, Wash., on Saturday, Sept. 2, 2017.

Services for Amber Jean Oaks Lockett
September 1, 2017

Celebration of Life: 11 a.m.