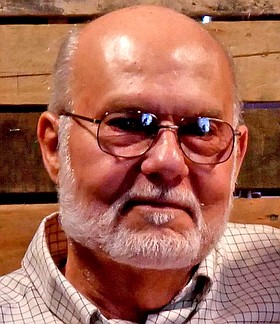 Charles "Chad" Ernest Clement
Omak, WA
April 1, 1943 - November 29, 2017
Charles 'Chad'
Ernest Clement
1923-2017
Charles Ernest Clement, Jr. (Chad) went home to be with the Lord on Nov. 29, 2017. He was born in Beardstown, Ill. on April 1, 1943. He married his high school sweetheart, Pat, on April 27, 1963.
Chad served in the U.S. Army between 1966-1968 and served a tour of duty in Viet Nam. On April 20, 1970 their daughter Amy joined their happy family.
Chad worked as a high-power lineman first in Illinois at C.I.P.S. After visiting Eugene, Oregon for a family wedding, Chad fell in love with the Pacific Northwest. The family relocated to Fall Creek, Oregon in 1973 where he worked at Springfield Utility Board until retiring in 2002.
Chad and Pat retired to Omak, Wash. to be with their daughter, son-in-heart, Michael, and their precious grandchildren, Evan and Ellie.
He is survived by his wife of almost 55 years, Pat; daughter, Amy (Michael) Porter; grandchildren, Evan and Ellie; sister, Tamera (Bill) Ebert of Chatham, Ill.; and extended family of a nephews, great-nephews, cousins, aunts and many close friends who were a blessing and felt like family.
Chad enjoyed many hobbies: camping, hiking, fishing, muzzle loader rifle building, shooting, knife making and traveling in their trailer locally and across the U.S. He loved serving his church community. He belonged to many Bible studies and had a passion for prayer. A celebration of life will be held at 11 a.m., Saturday, Dec. 16, 2017 at the Cornerstone Christian Fellowship Church, 328 Riverside Drive, Omak. In lieu of flowers, the family has requested that any donations be given to Missions Fund Memorial at Cornerstone Christian Fellowship Omak. These gifts will be distributed to missionaries.