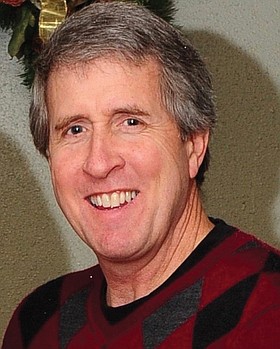 Brian Michael Sonneman
Brewster, WA
November 25, 1958 - October 31, 2017
​ Brian​ ​Michael​ ​Sonneman,​ ​58,​ ​of​ ​Brewster​ ​Wash.,​ ​went​ ​home​ ​to​ ​be with​ ​his​ ​Lord​ ​and​ ​Savior​ ​on​ ​Oct. ​31,​ ​2017,​ ​surrounded​ ​by​ ​his​ ​loving family.​ ​He​ ​was​ ​born​ ​Nov. ​25,​ ​1958​ ​in​ ​Tacoma,​ ​Wash.,​ ​to​ ​Robert and​ ​Marlene​ ​Sonneman.​ ​He​ ​grew​ ​up​ ​in​ ​Tacoma​ ​through​ ​high​ ​school​ ​where he​ ​was​ ​an​ ​outstanding​ ​athlete.​ ​He​ ​committed​ ​his​ ​life​ ​to​ ​the​ ​Lord​ ​in​ ​high school​ ​and​ ​was​ ​instrumental​ ​in​ ​bringing​ ​his​ ​entire​ ​family​ ​to​ ​know​ ​the​ ​Lord. By​ ​God's​ ​grace​ ​and​ ​Brian's​ ​example​ ​and​ ​devotion,​ ​each​ ​one​ ​of​ ​his​ ​children know​ ​and​ ​love​ ​the​ ​Lord.​ ​This​ ​was​ ​his​ ​greatest​ ​joy.​ ​He​ ​was​ ​involved​ ​in Young​ ​Life​ ​and​ ​was​ ​never​ ​ashamed​ ​to​ ​share​ ​the​ ​gospel.​ ​He​ ​attended Centralia​ ​College​ ​on​ ​a​ ​basketball​ ​scholarship​ ​then​ ​went​ ​on​ ​to​ ​WSU​ ​where he​ ​met​ ​his​ ​wife​ ​of​ ​35​ ​years.​ ​He​ ​was​ ​married​ ​to​ ​Lisa​ ​Ogle​ ​on​ ​July​ ​31,​ ​1982​ ​in Leavenworth,​ ​Wash.​ ​They​ ​made​ ​their​ ​home​ ​in​ ​Tacoma,​ ​Spokane,​ ​and lastly,​ ​Brewster,​ ​where​ ​they​ ​have​ ​lived​ ​for​ ​18​ ​years.
​ ​He​ ​was​ ​a​ ​man​ ​of​ ​integrity​ ​and​ ​lived​ ​what​ ​he​ ​believed.​ ​Brian​ ​was​ ​passionate about​ ​defending​ ​life.​ ​He​ ​spent​ ​years​ ​on​ ​the​ ​board​ ​of​ ​directors​ ​for​ ​the​ ​Crisis Pregnancy​ ​Center​ ​of​ ​Spokane​ ​and​ ​the​ ​local​ ​Care​ ​Net​ ​and​ ​earnestly​ ​prayed for​ ​abortion​ ​to​ ​end.
​ ​In​ ​2002,​ ​Brian​ ​and​ ​Lisa​ ​felt​ ​called​ ​to​ ​adopt​ ​from​ ​Haiti.​ ​Over​ ​the​ ​next​ ​six years,​ ​they​ ​brought​ ​four​ ​children​ ​home.​ ​He​ ​loved​ ​his​ ​family​ ​and​ ​was​ ​so​ ​proud of​ ​each​ ​and​ ​every​ ​one​ ​of​ ​them.​ ​Brian​ ​had​ ​a​ ​wonderful​ ​sense​ ​of​ ​humor.​ ​His children​ ​lovingly​ ​refer​ ​to​ ​his​ ​"Dad​ ​jokes".​ ​In​ ​2010,​ ​after​ ​the​ ​earthquake​ ​in Haiti,​ ​Brian​ ​spent​ ​a​ ​month​ ​working​ ​in​ ​a​ ​makeshift​ ​hospital.​ ​He​ ​is​ ​fondly remembered​ ​by​ ​many​ ​there.
​ Brian​ ​was​ ​a​ ​respected​ ​physical​ ​therapist​ ​for​ ​23​ ​years,​ ​working​ ​in​ ​a​ ​variety of​ ​settings.​ ​He​ ​loved​ ​his​ ​profession​ ​and​ ​deeply​ ​cared​ ​for​ ​his​ ​patients.​ ​He​ ​and his​ ​wife​ ​owned​ ​Eagle​ ​Rock​ ​Physical​ ​Therapy​ ​for​ ​eight​ ​years,​ ​which​ ​they​ ​sold​ ​in 2015​ ​after​ ​he​ ​was​ ​diagnosed​ ​with​ ​leukemia.​ ​Brian​ ​loved​ ​sports,​ ​fishing, camping​ ​and​ ​spending​ ​time​ ​with​ ​his​ ​family.​ ​He​ ​coached​ ​AAU​ ​basketball and​ ​was​ ​an​ ​active​ ​member​ ​of​ ​his​ ​church.​ ​He​ ​served​ ​on​ ​the​ ​church​ ​board​ ​and was​ ​instrumental​ ​in​ ​getting​ ​the​ ​Log​ ​Church​ ​Christian​ ​School​ ​established.
​ ​He​ ​is​ ​survived​ ​by​ ​his​ ​wife​, ​Lisa, of​ ​Brewster; ​ten​ ​wonderful​ ​children, Beth​ ​Milton​ ​and​ ​her​ ​husband​ ​Brad​ ​of​ ​Brewster,​ ​Rebekah​ ​Blakley​ ​and her​ ​husband​ ​Michael​ ​of​ ​Nashville,​ ​Tenn.,​ ​Caleb​ ​and​ ​wife​ ​Sara​ ​of​ ​West Hampton​ ​Beach,​ ​N.Y.,​ ​Abraham​ ​and​ ​wife​ ​Brittany​ ​of​ ​Coeur​ ​d'Alene,​ ​Idaho, Jolene​ ​Duncan​ ​and​ ​husband​ ​Richard​ ​of​ ​Kirkland, Wash.,​ ​Stephanie​ ​Sonneman​ ​of Spokane,​ ​Wash.,​ ​Rachel​ ​Searles​ ​and​ ​husband​ ​Brent​ ​of​ ​Wenatchee,​ ​Wash., Miriah​ ​Sonneman​ ​of​ ​Spokane,​ ​Wash.,​ ​Matthew​ ​Sonneman​ ​of​ ​Okanogan,​ ​Wash., and​ ​Jeff​ ​Sonneman​ ​of​ ​Brewster;​ ​his​ ​parents,​ ​Marlene​ ​Calsbeek​ ​of Brewster,​ ​and Robert​ ​Sonneman​ ​of​ ​Gig​ ​Harbor,​ ​Wash.;​ ​two​ ​brothers,​ ​Robert and​ ​wife​ ​Melanie​ ​of​ ​Fircrest,​ ​Wash.,​ and ​Brad​ ​Sonneman​ ​of​ ​Brewster; and one​ ​sister,​ ​Brenda​ ​and​ ​husband​ ​Dan​ ​of​ ​Gig​ ​Harbor,​ ​Wash.​ ​Brian​ ​was​ ​blessed with​ ​eleven​ ​grandchildren,​ ​whom​ ​he​ ​enjoyed​ ​immensely.​ ​His​ ​step-father, Frank​ ​Calsbeek​ ​preceded​ ​him​ ​in​ ​death.
​ ​
A​ ​memorial​ ​service​ ​will​ ​be​ ​held​ ​at 11 a.m.​ ​Saturday,​ ​Nov.​ ​4​ ​​at​ ​the Brewster​ ​High​ ​School​ ​gym.​ ​Barnes​ ​Chapel​ ​is​ ​entrusted​ ​with​ ​the arrangement.​ ​In​ ​lieu​ ​of​ ​flowers,​ ​memorial​ ​donations​ ​can​ ​be​ ​made​ ​to​ ​any CareNet​ ​Center​ ​or​ ​the​ ​Log​ ​Church​ ​Christian​ ​School​ ​in​ ​Brewster.