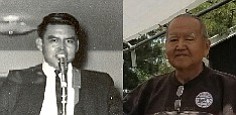 Philip L. Grunlose Sr.
Grand Coulee, WA
April 2, 1935 - October 24, 2017
Philip L. Grunlose Sr., 82, died on Tuesday, Oct. 24, 2017. Philip had Passed away with his family by his side at the Coulee Medical Center.
Philip was born April 2, 1935 in the Kartar Valley, Wash.. He attended St. Mary's Mission Indian School and later graduated from Omak High School in 1951. Philip attended college at Gonzaga University in Spokane WA and it was during this time he met his future wife Kay F. Hutchings. They were married at St. Mary's Mission on June 23,1956 and just celebrated their 62nd anniversary.
Philips career path started with BIA working in range at the Colville Confederated Tribes. He then worked with Job Corp taking his family to Eagle Butte, S.D., then moving back to Ft. Simcoe Job Corps in White Swan, Wash. Starting in the early 70's Philip decided to play music with his band full time and traveled across the NW. He was ready to tour across Canada when he was called by the Yakima Nation to administer the failing ANA federal program. Philip then worked with the Warm Springs Tribal administrative offices and moved his family to Warm Springs, Ore., in 1979.
Philip Always wanted to return to the Colville Confederated Tribes, his home reservation. In the summer of 1980 Philip moved his family to Coulee Dam and started working for the CCT as the director of Personnel. Philip then took a position as director of Area on Aging working with the senior citizen programs. Philip suffered a heart attack which forced an early retirement in 1998. In 2000, Philip returned to work with the CCT as Director of the tribal green house. In 2004, because of his health, Philip decided to retire for good.
Since his teens Philip loved to sing, play guitar and play music with his band. Because of Philips early success in his career he created more acceptance for Native American musicians. He paved the way for later generations of NW Native American musicians. Philip loved to play music for worthy causes donating his time to entertain for Toys for Tots, Suicide Prevention, Treaty Days just to name a few.
Philip L. Grunlose Sr. is survived by two sons, Philip Jr. and Greg; three daughters, Debra, Dianna and Cheryl; 21 grandchildren and 13 great-grandchildren. There are many friends and family that Philip leaves behind. He enjoyed the beautiful drive and time he spent at the Keller senior center.
The Grunlose family would like to thank all the people involved in helping us through this transitional time in our lives. Our appreciation and blessing go out to all the extended family, friends and the staff at the Nespelem Community Center.
Please sign Philip's online register book at www.stratefuneralhome.com. Strate Funeral Home of Grand Coulee, Wash. is honored to be serving Philip's family.