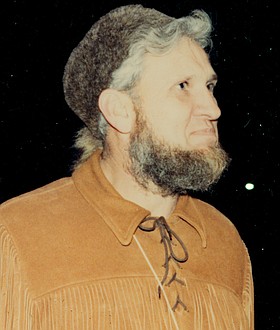 James "Jim" Eilof Aos
Omak, WA
January 1, 1940 - November 17, 2017
James Eilof Aos, 77, of Okanogan went home to his Lord and Savior on Nov. 17, 2017. He was born Jan. 1, 1940 to Carl and Lilla Aos, in Everett, Wash. he graduated from Snohomish High School in 1959. He worked various jobs in and around Everett and Alaska before moving to Omak in 1974, where he was employed at Omak High School as a welding and machine shop teacher as well as being a Pioneer mascot, getting to shoot a muzzle loader at football games for a touchdown.
He loved and built beautiful rock walls and doing everything outside and plowing snow with the special snow plow that he built himself. He enjoyed riding his motorcycle and showing off his dog, Foxy, riding in the backseat.
He married Ginger Covey on April 30, 1988, and together they put many miles on their motorcycle until Foxy took over the backseat.
He was preceded in death by his parents; and one daughter, Deanna. He is survived by his wife Ginger; sons, Troy and Trygre; and daughters, Susanne and Heidi; step-kids, Brent, Bretta and Brenda Covey, who loved and appreciated him like their own Dad; sisters, Judy Lacks and Joy Aos; brother-in-law, Nick Howell; and lots of grandkids.
A service will be held 11 a.m., at Precht-Harrison-Nearents Chapel, 2547 Elmway, on Saturday, Nov. 25, 2017.