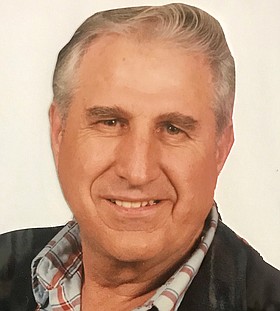 Clarence "Shag" Hauf
Omak, WA
October 21, 1935 - November 17, 2017
Clarence Hauf, better known as Shag, returned to his Lord on Nov. 17, 2017. He was met at Heaven's Gate by his loving daughter, Patricia Murrah.
Clarence was born Oct. 21, 1935, in South Dakota to Walter and Ruby (Gifford) Hauf and when he was very young, the family moved to Omak, Was. He attended Omak High School and in his young years took on a ranch hand job with Emmit Aston. There, he learned his passion for farming. A few years later, he began working for Biles-Coleman Timber Company starting as a cat operator, then working his way to lumber jack driver where he remained for 40 years. Shag was the longest tenured employee at the mill. Along with his dedication to his job at the mill, he started the Lazy H Ranch and farm with his new family. Clarence married Charlene Thomas in 1961, and had four children, Pamela, Patricia, Penny, and Paul. They resided on their Omak River Road farm. After his divorce, Clarence continued to live on the farm until his death.
Clarence was a member of the Lumber and Sawmill Workers Union. He was passionate about the government, but most of all, his grandkids. He would let his political opinions and his pride for his family be known during his daily rounds at local businesses, but would never let his social life interfere with him attending his grandkids soccer, wrestling, football, basketball or rodeo events. He was dedicated to the Okanogan County Fair and hoped to one-day help build an indoor arena at the fairgrounds. He was a member of the Lighthouse Chapel in Riverside, Wash. for many years, and introduced his grandkids to the Lord at this house of worship.
Clarence was survived by his daughters, Pamela Hauf (Larry Peasley), Penny Hauf-Tverberg (Pat Messinger); his son, Paul Hauf (Angela Gavin-Hauf); son-in-law, Jerry Murrah; grandkids, Naomie Peasley (great-grandkids: Pepper and Addyson Boesel), Tyler Peasley (Ann Hover, great-grandkids: Karver and Knox Peasley), Danielle Murrah (Danny Smart, great-grandkids: Hailey and Serena Smart), Clayton Murrah (Amber Duke), Madilyn and Kolbe Tverberg, Jessie Hauf (great-grandkid Lily Hauf), Dustin Gavin, brother Jerry Hauf, sister Connie Reid, as well as Brett Fields and his family, Greyson, Sheldon, and Savannah. He is preceded in death by his precious daughter, Patricia Murrah; his parents; and sisters, Dorthia Hauf and Judy Hauf.
A Celebration of Life and potluck will be held on Dec. 9, 2017 at the Okanogan County Fairgrounds Agriplex, in Okanogan, WA at 11 a.m.