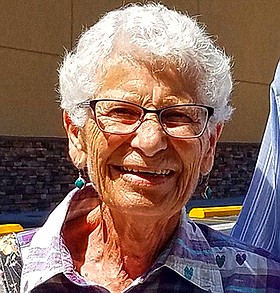 Rhonda Joan Denk
Okanogan, WA
July 29, 1946 - unknown
Rhonda Joan Denk, affectionately referred to as Rocky by her husband Don, was born to Art and Maxine (Hammer) Jarvis July 29, 1946 in Sacremento, Calif. She was an adored only child. Growing up Rhonda and her family moved often, going where her father could find work, finally settling in the Okanogan Valley, as this is where her mother's family was from.
She married Harvey Lambert in 1964 and they had two children together, Michael born in 1965 and Lisa in 1966. On Nov. 19, 1979 Rhonda married Don Denk in Reno, Nev. They made their home in Okanogan at Fowler's Trailer Park until her passing.
Don and Rhonda made many trips to Nevada in the 1980's and 1990's. They spent time with family, sightseeing and of course, a little gambling. So many happy and exciting adventures they had together. Rhonda bartended at the Elks in Omak. She also worked for Okanogan Growers Union as a packer and in quality control. She worked with her husband, Don, a lifelong carpenter, as his primary 'fetch and carry' assistant as well as his 'top holder' of important stuff.

Rhonda had a stroke in 2004. After recovering from the stroke, she was diagnosed with breast cancer in 2006. She was treated for and successfully survived breast cancer only to be diagnosed with pancreatic cancer in 2016. Again she fought long and hard but the cancer was strong and she was tired. She passed away at home with her loving husband, Don, at her side, the morning of Oct. 28, 2017.
Rhonda Denk is survived by her husband Don; her kitty, Boots; her children, Michael Lambert of Pateros and Lisa Blanchet of Moses Lake; as well as step children, Doug Denk of Okanogan and Micki Walston, Sammamish. Rhonda is also survived by nine grandchildren. Also surviving Rhonda is her sister-in-law, Rachel Denk of Spokane who was also with her when she passed.
The family would like to thank Pat Furman, Omak, daughter of Rhonda's recently deceased best friend, Jan Anderson, who gave Rhonda and Don her time, love and care during this difficult time.
Rhonda will be laid to rest in the Okanogan City Cemetery next to her best friend Janice Anderson, who passed away in June of 2017. As per Rhonda's request, there will be no service.