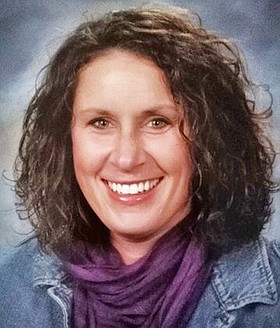 Jennifer Joy Kerr Hughes
Omak, WA
July 20, 1972 - December 26, 2017
Jennifer Joy Kerr Hughes,
Our beautiful, beloved Daughter, Sister, Mother and Friend passed away peacefully Tuesday Dec. 26, 2017 at home with her family, after a tremendous fight against cancer.
Jennifer Joy was born July 20, 1972. She was adopted as an infant and always felt the utmost gratitude to her birth family for placing her with her parents Richard and Ann Kerr.
She was raised in Bellingham, Wash., until the age of ten. Her family moved to Omak, Wash. and purchased Three Buttes Orchard.
Jenny was involved in AAU Basketball and Junior Track and field. She had even participated in Junior Olympics and placed.
She continued to be active in AAU through middle school and played volleyball.
Jenny attended Omak High School and her love for sports continued.
In 1987, she earned MVP at the state basketball tournament, and in 1989 she was awarded again for MVP for volleyball state. That's not to mention all the state, district, and school records she broke. Some of which she still holds the title for.
She graduated from Omak High school with a volleyball scholarship to Pacific Lutheran University.
In 1992, Jenny became a mother, Morgan Ashlynn Ann was born Aug. 3rd, followed by Taylor Richard Paul on Oct. 9, 1995.
Jennifer continued her education at Eastern Washington University, while attending she also coached middle school volleyball. She graduated from EWU with her Bachelor's Degree in Teaching.
After subbing within the Omak School District, Jenny began her teaching career as a high school english teacher as well as a P.E. instructor.
In August 2005, she began teaching at North Omak Elementary as a Kindergarten teacher. Jenny had found her place, her niche', North was home. Her classroom was always amazingly decorated, colorful and vibrant. Envied by many of her fellow teachers, she would spend hours after school and before perfecting it. She liked things clean, organized and smelling of bleach.
She had a remarkable talent to coach and teach and if she wasn't playing that didn't mean you could keep her off the court. She coached basketball, volleyball and softball in Omak, and volleyball in Tonasket.
Her favorite movie was "Superstar" staring Molly Shannon and Will Ferrell. As the coach she took the whole Tonasket Varsity Volleyball team to the opener in 1999. The only year Tonasket has been coached to state.
She was always so creative with gift giving and coach awards. No one could top Jenny.
In 2004, she began her battle with breast cancer and shortly after met Scott Hughes. They were married in 2005. While in remission they welcomed a daughter, Anna Jo Leigh Hughes, born Feb. 22, 2006.
Who if the Seahawks would have won the Super Bowl that year, would have been named Anna Lofa Hughes.
Jenny loved to water ski with her son, Taylor, and Anna's father, Scott. Always competing against them because Jenny could never lose. Spending hours at Omak Lake as a family was one of her favorite past times.
In 2010, Jenny's cancer returned this time in the form of lung and bone cancer. She fought it back to remission with the true stubbornness and strength we know only our Jenny had. She spent many hours on the road to Tacoma for treatment, she was determined to win. In 2015, Jenny was told she had brain cancer and again waged a brave and valiant battle.
Jenny was known for her bold personality, a true born coach with an undeniable love for "the game". She was loved and admired by all that were fortunate enough to have known her. She loved kids, adults always took second string to a young child. Family functions you would always find her playing games with the kids or packing around the newest addition. She had an unmatched smile and eyes that lit up the room. She took on projects, family functions, even attempting a three-layer Ombre Cake for her dear granddaughter once. She had an exuberance for life and an incredible ability to coach and teach.
Jennifer was someone who loved the holidays but most of all loved Christmas. She had an obscene collection of Christmas Nutcrackers and about 16 boxes of Christmas decorations.
She was a self-taught electrician, plumber, and make-shift handyman. Driving her kids bonkers with all her "projects" Always creating, painting signs or murals. Running to Home Depot for tools, wood, or plants. Shopping (especially at TJ Max), yardsaling and helping to keep Walmart in business. Not a day passed she wasn't on Pinterest.
She loved the color teal or aqua, went through a stage where everything was decorated black and white or chevron pattern.
In the summer, you could always find her at the lake on the boat, out in her yard planting, in her living room dancing to her favorite game song "I'm Bad" by Michael Jackson, sunbathing in her bikini and even sometimes rapping to her favorite song by Chingy "I like the way you do that right thurr"
Some of her favorite movies were Miracle on 34th Street, Sleepless in Seattle, and Ten Things I Hate About You.
She was preceded in death by her mother, Ann Kerr; and her brother, Ed Kerr
She is survived by her father, Richard Kerr, of Omak; siblings, Patrick Fralick, of Tacoma and Lois (Greg) Hansen, of Tacoma;
daughter, Morgan Kerr-Collins, of Omak; son, Taylor Kerr, of Omak; daughter, Anna Jo Leigh Hughes, of Omak; son-in-law, Barry Collins; granddaughter, Paisley Ann Marie, of Omak; biological mother, Debra Long, of Las Vegas, Nev.; step-daughters, Kelsie Hughes Cunningham and Riley Hughes Howell; step-grandchildren, Cooper, Colter, Arlo and July; as well as nieces, Alex Hansen and Lindsey Hansen- Filly, of Tacoma; and many more loved nieces, nephews and close friends who will never forget that smile and bright blue eyes.
Last, we know Jenny left on a Harley Davidson with her buddy and partner in crime Deanna for a quick stop at the beach, and then on to the Pearly Gates to be reunited with her mom, and brother Ed.
When you think of Jenny remember her laugh, her beautiful smile and take a trip to the ocean, Omak Lake, or Las Vegas for her from time to time.
"I carried you on eagle's wings and brought you to myself" Exodus 19:4
From her kids: "We'll love you forever, we'll like you for always, as long as we're living our mommy you'll be."
A funeral will be at 11 a.m., Saturday, Jan. 6, 2018 at the Cornerstone Christian Fellowship, Omak, with potluck lunch to follow.
Donations in Jennifer Kerr's name can be made to The Cancer Survivorship and Cancer Wellness Program at Confluence Health Wenatchee, WA.