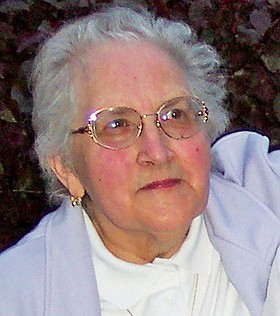 Deloris M. Maynard
Tonasket, WA
February 5, 1933 - December 25, 2017
Deloris M. Maynard, 84, of Tonasket, Wash., died on Dec. 25, 2017 at North Valley Hospital in Tonasket. She was born Feb. 5, 1933 in Haynes, N.D., to Lawrence and Agnes Ladwig. At an early age, she moved with her family to California living there for a time before returning to North Dakota where they purchased a cattle ranch. Deloris attended nursing school in Aberdeen, S.D., and following graduation moved to Wallace, Idaho, where she worked in area hospitals for thirty-five years. She then moved to Tonasket to be near her grandchildren and worked at North Valley Nursing Home until her retirement in the mid-1990s. She was a voracious reader and enjoyed crocheting, knitting and working crossword puzzles-in pen.
Deloris is survived by one daughter, Marva (Jeff) McMillan, of Tonasket; one son, Larry (Tammy) Maynard, of Grants, N.M.; one brother, Tom (Debbie) Ladwig of Williston, N.D.; four grandchildren, Crystal Masche, Daniel Maynard, Meagan McMillan and Douglas McMillan; and six great-grandchildren, Deven, Dawson, Dean, Konner, Ava and Kendyl.
She was preceded in death by her parents; and one brother, Jim.
Memorial services will be held at a later date.
Bergh Funeral Service & Crematory in care of arrangements.