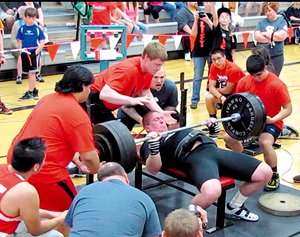 Matt Thornton of Omak's Xtreme Powerlifting Club bench presses 485 pounds, breaking the state's previous record by 55 pounds at the state tournament May 4 in Shelton. From left assisting are Sumo Sandoval, coach Jordan Lesamiz and Jacob Cutrell.
Stories this photo appears in:

Omak returns with five state champs
SHELTON – Omak High School's Xtreme Powerlifting Club returned with five state champions and set a ton of state records at the Washington State High School Powerlifting State Meet on May 4. State champions include Beckah Thomason, Shawnee Covington, Jacob Cutrell, Brandon Zaragoza and Matt Thornton.