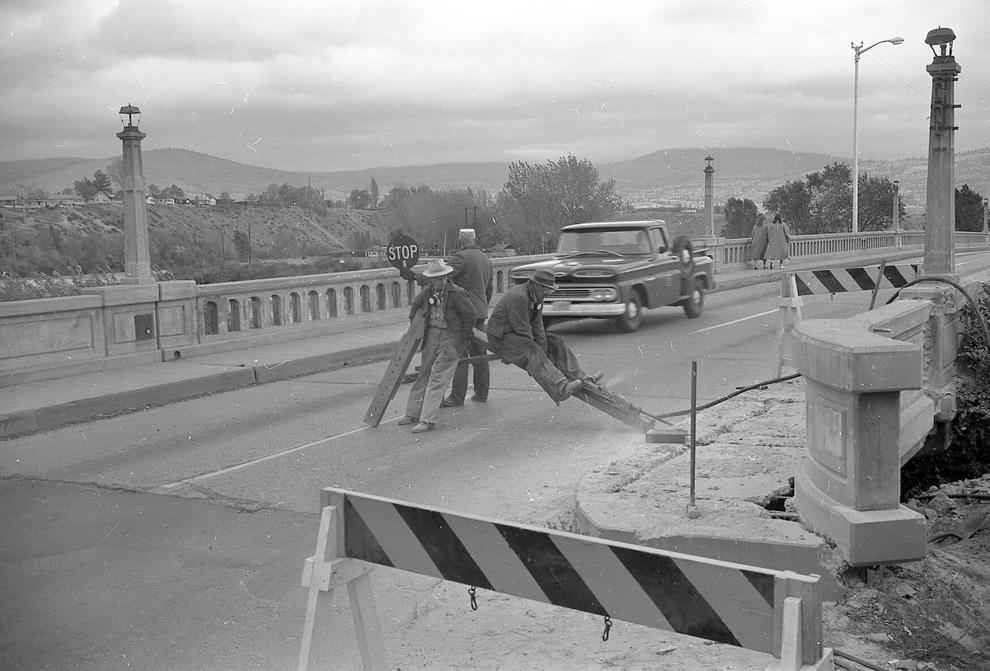 100 years ago
(Jan. 7, 1921)
The Wenatchee district cooperative association is planning a meeting here to explain the program and to sign up apple growers.
The average yield per acre in the Okanogan Irrigation project last year was $367.23, with prospects for an even better year ahead.
Mrs. Bessie W. Dunckel and her Goose Lake school students presented a special Christmas Eve program at the school, followed by dancing at Herman Friedlander's home.
Okanogan County bankers, meeting to form a countywide organization, discussed the sale of county warrants and improving the market.
Work on the Salmon Lake dam at Conconully is reported three-fourths completed.
Seven feet of snow and still falling is reported from the hills around Winthrop.
75 years ago
(Jan. 3, 1946)
The Omak Pioneers won first in a basketball tourney at Wilbur, competing against seven other teams. The locals defeated Colville, Connell and Chewelah.
Melvin Christie is building a drive-in market south of town. Joe McMahan will operate the groceries department and Christie the meat.
Robert George Kratochvil of Tonasket is the apparent winner in the countywide baby contest. He was born one second after midnight at St. Martin's Hospital in Tonasket.
The self-assessment of personal property initiated in Okanogan County 11 years ago has spread to other areas in the state, reports assessor H. A. Yates.
Norma Jaquish, Rainbow Worthy adviser, will install other officers here Monday evening.
50 years ago
(Jan. 14, 1971)
Okanogan County Public Utility District commissioners formally adopted a revised policy concerning its reimbursement program at its weekly meeting Jan. 6. Commissioners Jim Kernan and Irv Woods approved the measure. The new policy awards the reimbursement to the owner of the property at the time of installation.
Two Omak junior education majors at Eastern Washington State College, Nancy L. Hendrick and Leona D. Moore, have begun student teaching assignments.
Prices: Beef rib steak, $1.29 per pound; 46-ounce tin of apple juice, 39 cents; two-pound loaf of cheese, $1.09.
25 years ago
(Jan. 17, 1996)
Investigation continues into a fire that destroyed a pile of towels and scorched a floor and wall at Omak High School early Saturday, Jan. 13. Omak Fire Chief Cal Bowling said the fire probably was set in towels, which were piled in a hallway outside the laundry room. The fire scorched floor and wall tiles and melted a heat vent on the ceiling.
A showdown is brewing in high school wrestling between Tonasket's Cole Denison and Okanogan's Rigo Medrano. Both wrestlers are undefeated in league. Medrano is undefeated for the year after wins against Cashmere and Cascade. Denison is 17-1 overall. His lone loss came in a narrow decision after he moved up from his regular weight to get more early season experience.
Omak's Mountvu Racquet Club, bought last month by former Cashmere resident Mark Milner and his parents, Dick and Judy Miller, has undergone a metamorphosis in less than a month. The changes started with its name, now North Cascades Athletic Club. Mark Milner said other changes will include new weights, sports leagues and a day care service.
10 years ago
(Jan. 19, 2011)
Madison Hatch was selected 2011 May Festival queen during a competition Monday evening at the Oroville High School commons. Outgoing queen Brandy Range presented Hatch, 17, the daughter of Bill and Moya Hatch, Oroville, with a bouquet of red roses when it was announced she had been selected 2011 queen.
Erick Judd, who led the entire state with 2,118 touchdowns as a running back in 1991, will be recommended as the next head football coach at Okanogan High School. "I am excited," Judd said. "I know the kids really well, the next step is to get hired on full time."
Although it was tough beating a "Royal Flush" at the 27th annual Conconully Outhouse Races Kan 15, there were plenty of poopers on hand giving it a hand. This year's races brought 22 outhouses to Main Street, which was lined with an estimated 500 fans, announcer Dena Byl said.
Years ago is compiled by Chronicle Managing Editor Brock Hires. He can be reached at 509-826-1110 or via email at bhires@omakchronicle.com.