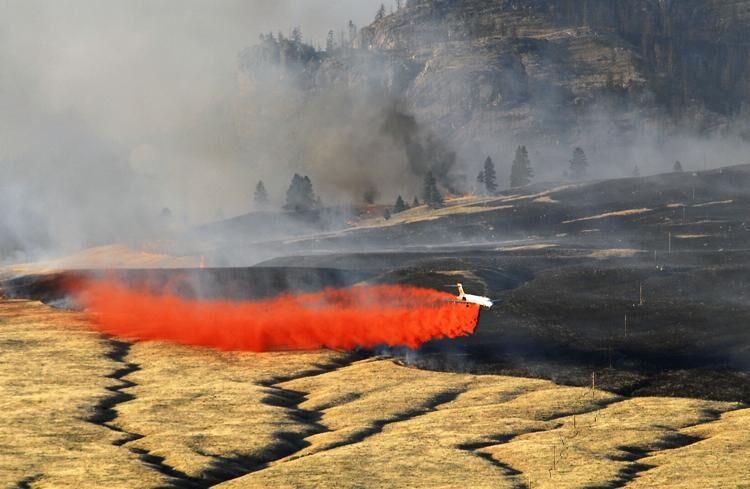 TONASKET - Fire crews continue to battle the Anglin Fire burning east of town.
The fire, now estimated at 1,707 acres, has reached 50 percent containment, according to fire officials.
"Firefighting efforts today will focus on keeping the fire contained within the established footprint, mopping up 50 feet in from perimeter, and 300 feet around structures," fire officials said Wednesday morning. "Aircraft will continue to work over the fire today to help extinguish hot spots and hard to reach areas. 
Level 3 evacuation orders have been removed. A level 2 evacuation order remains in place for Rehmke Road, south of Siwash Road, and all roads connecting to Rehmke Road.
Level 1 evacuations are still in place for the Cayuse Mountain and Island Mountain areas.
Electricity has been restored to the fire area, officials said.
Fire officials said one home has been damaged in the blaze, and two outbuildings have been razed.
To the south, firefighters from across the region continue to make progress on the 1,480-acres Green Fire burning in Tunk Valley.
"Today, crews will continue mop up operations and repairing areas effected by suppression efforts," officials said.
The Green fire is 90 percent contained and remains under a level 1 evacuation order.
"Residents should expect to see smoke from the interior of the fires over the next several days," officials said. "A thunderstorm threat will continue through the day on Thursday with the potential for dry lightning across all northern fire districts."
Firefighters continue to make progress in knocking down the Greenhouse Fire burning near Nespelem.
As of Tuesday evening, the fire was 74 percent contained and had burned across 5,146 acres of land. The cause is undetermined.