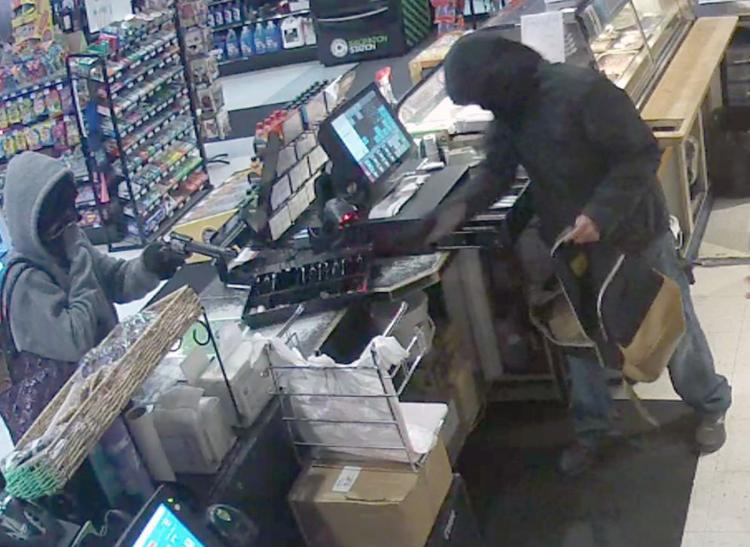 PATEROS – Law enforcement is asking for help in locating two people who robbed the Pateros Super Stop at gunpoint on Sunday, Feb. 16.
Okanogan County Sheriff's Office deputies responded about 10:23 a.m. Sunday to a report of an armed robbery at the store, 245 Lakeshore Drive.
"The two suspects were armed with a revolver and held the clerk at gunpoint while forcing her to open the cash register," said Sheriff Tony Hawley. "They removed the cash and left the store."
No one was injured.
The male and female suspects apparently walked to the store, said Hawley. Both were wearing clothing that covered their faces, although they were described as being either Hispanic or Native American.
Photographs were obtained from the store's video surveillance cameras.
The man stood about 5 feet 6 inches tall and had brown eyes. He was last seen wearing a black hooded sweatshirt, blue jeans and black tennis shoes, and holding a blue and tan backpack.
The slender woman, at 5 feet 3 inches tall, also had brown eyes. She was last seen wearing a gray hooded sweatshirt, torn blue jeans and tan slippers, and carried a large, purple, purse-style bag.
They have not been identified, Hawley said.
Anyone with information that would help in apprehending them asked to contact the Okanogan County Sheriff's Office, 509-422-7232.
"As these suspects are known to be armed do not attempt to detain them," Hawley said.