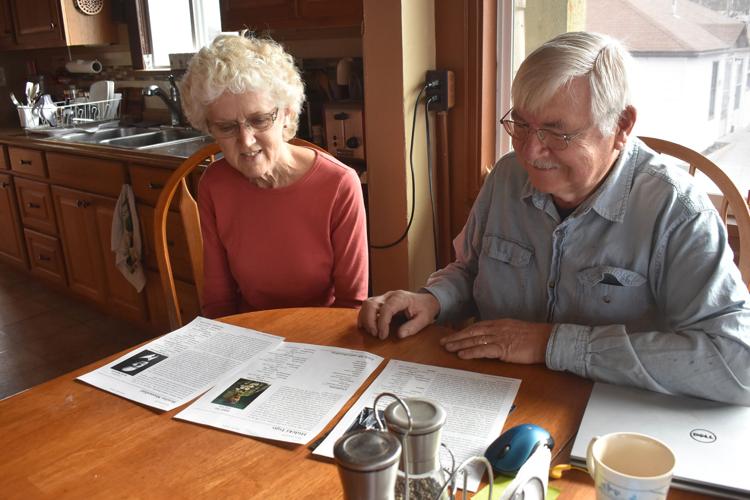 OKANOGAN - What started out as a simple home improvement project for an Okanogan couple quickly turned into a quest for information into their 1921 Okanogan home.
While removing shelving from his basement pantry over the Veterans Day holiday weekend, Wayne Turner said he was startled to see three distinctive paintings on his wall. One, of an airplane with the words, "Keep 'Em Flying," adjacent to the words "Remember Pearl Harbor," and an outline of what appears to be the Axis leaders of World War II - Adolf Hitler, Hideki Tojo and Benito Mussolini – accompanied by the phrase, "Beat the Axis."
"It blew me away," Wayne Turner said. "I didn't know what was going on here."
His wife, June, added, "they were so well done.
"Who did this?" she said. "Maybe someone can tell us something."
According to Okanogan County tax records, Wayne purchased the 225 Conconully St., home, in 1972 from Vesta Elgin.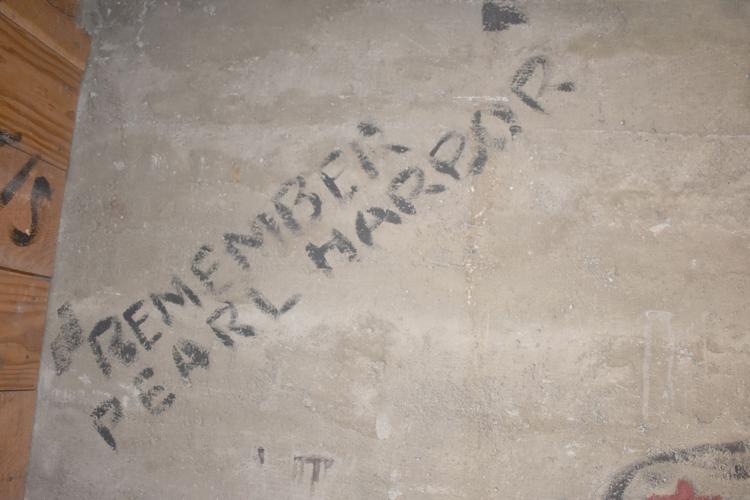 A brief search by Okanogan County Historical Society volunteer Barry George shows Vesta (Rice) Elgin graduated from Omak High School in 1915 – as a member of a class of seven students.
She married William Grant Elgin on Oct. 20, 1915.
"William Elgin was the son of Grant Elgin, who owned a ranch south of Shellrock Point (near the current Precht-Harrison-Nearents Chapel)," George said. "The small creek passing there is Elgin Creek, flowing out of Elgin Canyon."
In 1920, the Elgins apparently lived on Fourth Avenue, but later moved to the Nighthawk and Loomis ranching area in the 1930s and 1940s
"William's World War II draft card list his address as Loomis, Wash.," George said.
From July 1948 to August 1951, the W. G. Elgin address was listed as 255 Conconully St., in the phone book. As of August 1952, the W. G. Elgin address is 225 Conconully St.
Why the address changed remains unclear.
Although William Elgin was in the service, George said he doubts the Elgins created the drawings.
"I don't think they had anything to do with the artwork," he said.
Kay Sibley with the Oroville Borderlands Historical Society echoed.
"I think you are looking for someone that had the house between 1940 and 1947," Sibley said. "Then, if it is not one of the individuals in the home it would have to be a good friend that was allowed to draw on their walls. The plane might indicate that someone from the family is flying."
The Turners, who vacationed in Germany earlier this summer, said discovery of the artwork is almost eerie.
"We spent close to two weeks in Germany," June Turner said. "There was an emphasis on the Cold War and World War II; we saw the ruins of Hitler's headquarters."
And for June, Pearl Harbor Day is especially sentimental to her, as her father died on Pear Harbor Day in 1992.
The couple said they plan to cut out the wooden portion with the painting of Adolf Hitler, Hideki Tojo and Benito Mussolini and will likely donate it to the historical society or the U.S. Armed Forces Legacy Project in Tonasket.
They will eventually finish their pantry but do their best to preserve the remaining artwork. June said she would like to take a photograph of the other pieces and have a metal print of them made.
Anyone with information about the paintings is asked to email news@omakchronicle.com, or call 509-826-1110.