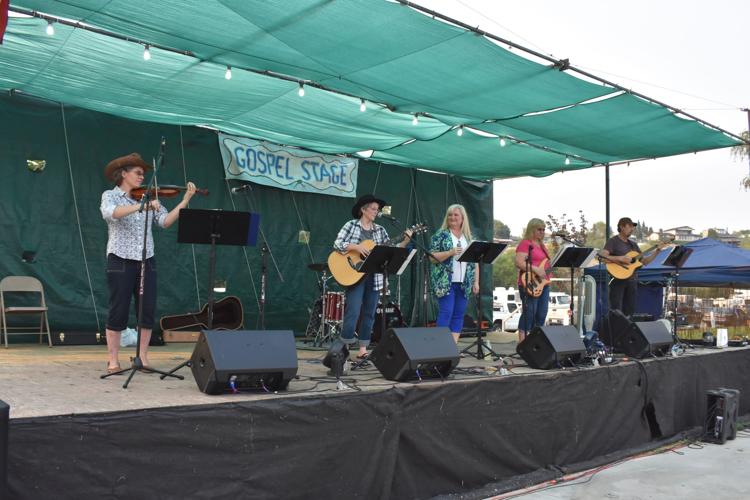 OMAK - Christians in Action celebrates its 47th year with music, free ice water, Bibles, Western church service and refreshments at the Omak Stampede Aug. 8-11.
The inspirational presentations are at Triangle Park between the carnival and rodeo arena. All events are free of admission and sponsored by Christians In Action, a local interdenominational non-profit corporation.
Music begins at about 5 p.m. each night and continues until after the rodeos.
Nine or more Okanogan County churches plus three out-of-town groups will bring ministry to the gospel stage this year.
Also provided is a free continental breakfast with Western church service at 8:30 a.m. Sunday, Aug. 11.
"Many local people will be glad to reconnect with former Servants Heart band member and UPS driver, Jeff Ecklund," Christians In Action President Kathleen Christensen said. "Jeff and his wife Robie Ecklund are lead pastors at House of the Lord Church in Oldtown Idaho."
 They will speak and sing at 6 p.m. Saturday,  and at Sunday Western church service Sunday morning.
"In the Okanogan county area, they were Christian musicians, worship leaders, youth pastors and associate pastors at New Life Church, Okanogan, while working full time in secular employment and raising a family," Christensen said. "They continue to write songs, lead worship, train leaders, and author books. They have recorded several music projects and traveled nationally and internationally doing what they do anywhere they are sent by God."
 Award-winning singer-songwriters Lonnie and Teresa Good along with other worship team members from Cascade Bible Church in the Methow Valley will also take the stage at this year's Christians In Action gospel stage at 7:30 p.m. Friday, Aug. 9.
Combined, Lonnie and Teresa have over 50 years of musical experience. Before joining forces, each won competitions, includin Teresa's state finalist in Regional True Value/GMC Showdown and Lonnie's first place in Seattle's Worthy Music Talent Competition.
Loose Change will take the stage at 7 p.m. Thursday and 9  p.m. Saturday.
The band was originally formed by Kathy Peterson in 1997 and performs a variety of bluegrass, gospel, old-time, and Christian cowboy tunes.
Peterson and husband Rod live in Aguanga, Calif. She is a U.S. Forest Service retiree and strategic planning consultant.
Peterson will be joined by April Vaughn, Ark.; Lyn Pearce, Riverside; and Carl and Brenda Behrents, Omak.
Tunk Valley musician Nicole Unser will take the stage at 5 p.m. Saturday, Aug. 10.
"When asked what 'being country' means to her,  Unser responded: "I associate country with being an honest thing, with being a hardworking thing, being a dependable and trustworthy thing; by that definition I grew up country."
Over the years Unser's developed a heart for storytelling; a hunger for performing; and a passion for pure, honest, country music.
"I want to give people what so many country albums have given me: a chance to cry, a reason to laugh, a time to bond, a different way of seeing the world- a new perspective, a realization, a time to reflect," she said.
Unser is the 2012 Texaco Country Showdown New Mexico state champion, a nationwide talent contest. She has played legendary venues like the Ryman Auditorium and Bluebird Cafe in Nashville, Tenn.
She will be joined on stage with Curtis Willson and Kasey Pinkham of Tonasket Free Methodist Church
The Rev. Raul Martinez, Okanogan, and Eglesia Del Tercer Dia (Church of the Third Day), Tonasket, host two Spanish services at 6:30 p.m. Friday and 7 p.m. Saturday.  The serviceswill include guests from El Faro (The Lighthouse) Assembly of God church, Oroville.
Several other local ministries are planned throughout the weekend, too.
Thursday brings a local brass ensemble and the New Life Worship Team, Okanogan.
Friday brings Caleb Knowlton and the River Worship Band from Tonasket River of Grace Church at 8:30 p.m.; Shane Marlow with Breathe of Life worship team, East Wenatchee, will perform at 9:30 p.m.
On Saturday, the Behrent Family Praise Band will perform at 8 p.m.
Omak resident Tina Schmidt will perform Sunday morning following the Grand Parade.
In 1973, members of the Omak Presbyterian Church brought KEY '73 Bibles and the first cowboy praise service to the Omak Stampede.  "Stampeders for Christ" continued yearly with participants from Omak Free Methodist Church and Christian Businessmen Association, bringing music, Bibles, refreshments and craft.
 The group helped the sheriff's department care for lost kids also.  Incorporated as Christians In Action in 1977, the organization coordinates musicians, speakers, dramas and kids' activities from a variety of churches every year since. It also maintains the KMBI 103.9 FM Translator and "Sonshine Cross" on Shellrock Point. Christians in Action provides Bibles to high school graduates and sponsors an Easter Sonrise Service.
For more information call 509-422-4660, visit www.okanoganchristiansinaction.org, or on Facebook @okchristiansinaction.