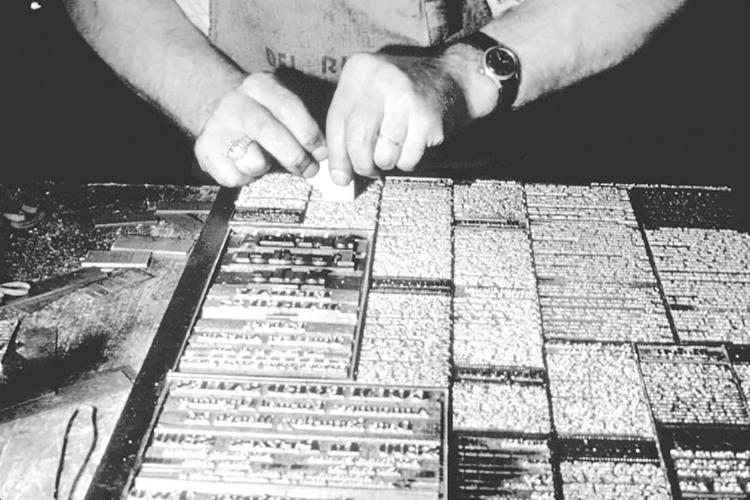 The Omak-Okanogan County Chronicle, the youngest of the county's weekly newspapers, celebrates 110 years of serving the community today, May 20, 2020.
The Chronicle began publishing May 20, 1910, as The Omak Chronicle, a newspaper which then devoted its attentions solely to Omak.
It, like many newspapers, has broadened its attentions in order to survive. The Chronicle added "Okanogan County" to its nameplate in early 1973 to reflect its expanding role.
Chronicle founder Clarence P. Scates wrote in his first editorial: "We expect to continue in the esteem and consideration of our readers by a fair and impartial rendition of facts and by continually striving to better conditions to feel that each day we have taken a step toward a bring future and accomplished something for Omak and the Okanogan Valley."
All these years later, The Chronicle continues to work on the role its founder defined.
But surviving for 110 years to be Omak's oldest continuously operating business has not been an easy task.
Scates era is brief
That first publisher listed himself, C.P. Scates, plus C.E. Weatherstone, Ben Ross, John Godfrey, Conrad Knosher and W.S. Shumway as investors.
Scates operated for a year on that start, then formed a stock company of local investors to keep the paper going, his successor, Frank DeVos, reported in the "Heritage," the Okanogan County Historical Society's publication.
For the first dozen years, most issues of The Chronicle consisted of four pages. Much of the time, two of those four pages were primarily "boilerplate" — pre-set filler material ranging from short stories and novels to how-to advice and health tips.
When Scates announced incorporation, boilerplate diminished and local news increased, although local advertising did not. The infusion of new capital brightened The Chronicle considerably for several months.
During that era, The Chronicle survived two fires. Both fires burned the nearby Middleton building housing Delmonico's cafe.
The Chronicle then was located in a building on the west side of Main Street north of the traffic light. Delmonico's, 50 feet south across a vacant lot, burned in May, was rebuilt and burned again in August.
Townspeople — no doubt some of them investors — used garden hoses the first time and a bucket brigade the second to save The Chronicle building.
Both times, Scates followed the fires with effusive praise and thank yous to volunteers, and sturdy editorials on behalf of fire protection.
Later in 1912, the Omak Publishing Co. announced it was leasing The Chronicle to Scates and urged its creditors to pay their bills. Scates again was alone on the masthead.
Things fell apart in February of 1913. Scates' name disappeared from the masthead in the Feb. 21, 1913, edition. The Omak Publishing Co. took its place. The paper was a mongrel in makeup, content and typefaces.
Readers, who likely knew then, as now, more than the newspaper printed, had to wait until Feb. 28 for a tiny item buried at the bottom of column 3, Page 3, announcing: "C.P. Scates, who has guided the destinies of the Chronicle since the paper was founded three years ago, has retired from the management and will hereafter devote his energies to the publishing of the Riverside Argus."
Scates apparently had been involved in both for some time.
The story went on to report that "no definite arrangement for the continuance of this paper has yet been made, but for the present Mrs. Bessie Howard is officiating in the composing room with J.W. Godfrey and C.E. Weatherstone rendering assistance in other departments."
Godfrey and Weatherstone were businessmen, obviously part of the group underwriting the paper.
They kept The Chronicle going, relying heavily again on boilerplate. A month later The Chronicle reported that Mary P. Scates (C.P. Scates' wife) was moving her millinery shop from Omak to Riverside.
F.A. DeVos of Oroville showed up in the social notes as "an Omak visitor Sunday" in the April 18 edition.
DeVos canoes to town
A month later, Frank DeVos arrived by canoe from Oroville to manage The Chronicle for the Omak Publishing Co. DeVos ran a social item inviting people to come in and get acquainted.
"Never too busy for a pleasant howdy," he breezed.
His 1965 article in the "Heritage" reports he went to work for $100 a month and that his wife found a steady teaching job at $65 a month.
Scates was a serious challenger of issues. DeVos was a wildly enthusiastic booster of Omak and Okanogan County.
He also got into verbal squabbles with neighboring editors, took on James J. Hill and the Great Northern Railroad on everything from tardy construction to late trains, and ran The Chronicle's first color - an off-orange jack o'lantern for the 1913 Halloween edition.
DeVos announced Sept. 8, 1915, that he was buying out the Omak Publishing Co.
"The Chronicle is now five and a half years old and has spent all of this time boosting for Omak and the adjacent (irrigation) project and to date has never produced any dividends for the men who originally put up the cash to install this business in Omak," he wrote.
Dave Johnson, then editor and publisher of the Grant County Journal in Ephrata, reported after a visit with DeVos in 1967 that the bank had foreclosed on the Omak Publishing Co. and sold the paper to DeVos for nothing down.
A new building
In March 1917, DeVos announced that a new building would be constructed to house The Chronicle. This was the newspaper's second home - a newspaper office, print shop and home for the publisher and his wife at the northeast corner of Main and Bartlett.
That, and the tenor of a DeVos editorial in 1923, indicates that he and his wife, Anna, were paying the bills as promised in 1915. He went on boosting Omak harder than ever — and possibly too hard.
By the first issue in 1926, Anna Mae Rigby was editor. She noted in her Jan. 14, 1926, editorial that it was the first issue under her management. There was no other mention of DeVos for some months.
The name of Frank Emert appeared in a social note as a visitor to Omak from Oroville. By the end of June 1926, Emert was the publisher-owner of The Omak Chronicle.
Emert and DeVos both came to Omak from the Oroville Gazette. But DeVos came as a former Gazette employee. Emert was its publisher and continued to own it and the Pateros Reporter for three years after moving to Omak.
There was a dramatic change in The Chronicle under Emert. He, like Scates, was a journalist, not a printer like DeVos. Advertising lineage increased and pages were brightened with multiple-column headlines and a few more pictures.
The number of pages started to increase, rising to eight a week by the end of 1926 and hitting 10 a week during the Christmas season.    
Twice a week
The next spurt of growth was a twice-a-week edition, which Emert started on May 31, 1928 — almost on The Chronicle's anniversary date.
The Chronicle began carrying news of the state, nation and world from United Press.
Emert produced a progress edition Sept. 18, 1928, that was a monumental undertaking, covering much of the Okanogan Valley in 42 pages, all with solid advertising and local news content.
In 1929 The Chronicle was building a new plant. Emert expanded his staff, hiring Lloyd Whiting as printer-foreman and Charles Parks as reporter.
The two arrived in the summer of 1929 to find Omak booming. They arrived in time to help move The Chronicle into the new building on Main Street, across from the Omak Cinema.
Hard times descended shortly after those high days of the late 1920s. But Emert managed to keep up the twice-weekly schedule until early in 1942.
The Chronicle's toughest competition in those years was O.H. Woody's Okanogan Independent. Woody began twice-weekly publication in 1915 and Emert's goal had been to meet that schedule and to see The Chronicle become a daily newspaper.
Whiting, who worked for Emert from 1929 through 1938, reported for The Chronicle's 75th anniversary edition that despite the effects of the Depression, Emert was not willing to lower the quality of the newspaper or stop twice-weekly publication.    
Once a week again
Emert and Harley Heath, by then publisher of the Independent, announced in jointly signed editorials Jan. 20, 1942, that they were suspending twice-weekly publication, partly to help the war effort and partly for economic reasons.
Neither paper resumed the twice-weekly schedule again until The Chronicle began a weekend edition in 2011. The Independent ceased publishing in 1975.
Whiting reported in 1985 that he left the paper in 1938 and by 1942 had received all of his back wages. Emert hung on and once again The Chronicle survived economic crisis.
Frank and Edna Emert had been a team from the beginning. She handled bookkeeping, ran the Linotype and filled in where needed.
As their family grew, the children also were drawn into newspaper work. The Emerts had eight children.
Their eldest son, Winston, had worked beside his father setting type at the Linotype during high school. He left college to join the Air Force; his loss in combat over Hungary was a blow to the family.
The 1940s and '50s were periods of slow growth for Omak and The Chronicle. The Emerts were able to pay their bills and upgrade presses and equipment needed to publish the paper and operate a print shop.
There still were hard times, editorial battles and lawsuits to survive. The Emerts were sued for publishing a photo of gambling tables after someone claimed there was no evidence of illegal gambling. The suit was dismissed.
The years and pressures took their toll. After 40 years as a newspaper publisher, Emert's family and staff worried his health was failing. He was urged to retire.
He announced sale of The Chronicle and his retirement from publishing on Jan. 24, 1957. Emert died four years later, June 25, 1961.
New publishers Bruce and Merilynn Wilson, Ritzville, took over April 1, 1957, with Joe and Ruth Sinclair as partners. There was again a spurt of growth and a change in layout and format.    
Technological changes
The paper began using more photos after a plastic engraving machine was added. Before that, all photos had to be sent out of town for engraving; as a result, not many pictures were run.
When the Wilsons and the Sinclairs arrived, Harley Heath, who had sold the Independent in 1948, was advertising manager. Glen Widel was shop foreman, Charles Kerr was news editor.
Elizabeth Widel joined the staff in 1954 as society editor and Linotype operator. She later wrote news stories and continued to write a weekly column until her death in October 2015 at age 100. She was a stockholder from 1975-1996.
Heath later stepped down as advertising manager, to be replaced by Sinclair. Heath continued selling ads and writing his popular "Seen 'n Heard" column until felled by a stroke in April 1967 at age 86.
Glen Widel died in August 1961 and Bill Rowe became shop foreman about the same time Wilson hired John E. Andrist to succeed Charlie Kerr as news editor. Kerr left to enter college at age 53.
Andrist left The Chronicle in 1966 to work as a grant writer for Okanogan County school districts, then returned as a partner in 1970.
In the meantime, Wilson and Sinclair shifted The Chronicle from hot metal printing to offset. Gone were the metal type, the clanking press, molten lead, Linotypes and heavy page forms.
It was the first major shift in technology since Scates launched The Chronicle in 1910 with a Diamond newspaper press and a Simplex typesetter. DeVos installed The Chronicle's first Linotype and Emert added a second in 1929.
They were replaced by a justifying typewriter, the Justowriter. The Chronicle moved into the modern age of phototypesetting with the purchase of a Compugraphic CompuWriter II in 1973.
Yet for all those advances, copy was still written on typewriters, edited and handed to an operator to keyboard once again into type.
That ended in 1979, when The Chronicle stepped into the computer age with video display terminals.
Reporters set type as they wrote their stories and stored them on 5 1/4-inch computer floppy disks. A computerized phototypesetter, the Trendsetter, read the disks and set them into type.
Chronicle ownership expanded in 1979 when Andrist married Mary Koch, who became news editor, then managing editor in 1985.    
News coverage expands
In 1970, under Wilson and Andrist, The Chronicle still concentrated heavily on Omak. After a brief recession in the early 1970s, Omak and Okanogan County began to prosper.
Still, newspapers in Okanogan and Tonasket closed.
The Chronicle expanded news coverage to include both communities and circulation rose from 2,600 in 1970 to 6,600 by 1982. What had been a newspaper of 10-12 pages a week in 1970 grew to 24-32 pages in 1981-82.
The growth created new problems in the 1929 building, which housed the newspaper, print shop and office supply store.
Early in 1979, the office supply stock was sold to Ken and Glenda Freel of The Office Center and the building underwent its first major overhaul in 50 years.
That began with a 40-foot addition on the rear of the building and was followed by extensive remodeling throughout the old section.
The print shop, headed by Earl Gray since 1974, moved into the new space and everyone gained a little elbow room.
News coverage took on a truly county-wide scope as the staff covered issues from Oroville to Pateros and the Methow to Grand Coulee Dam.
The Chronicle faced a new economic challenge in the early 1980s. Omak began losing grocery stores to the recession and surviving grocers began shifting their advertising from newspapers to direct mail.
Surviving that loss meant digging harder for enough small ads to make up for the full pages grocers once purchased. That meant adding more advertising sales people.
It also meant trying new publications. A television guide, the TV Chronicle, and shopper, The Bottom Line, were produced each week.
New publications and new staff meant work space was short again. The print shop was moved to rental space in a former freight warehouse in south Omak and the building was remodeled again.
The remodeling in 1979 meant growth, but in 1983 it was an effort to maintain position. Even so, staff reductions were necessary.
As it entered its 75th year of publication, The Chronicle repeated the belt-tightening which meant its survival in similar recessions in the past.
When Koch was named managing editor in 1985 Dee Camp, who joined the staff in 1979 as society editor/reporter and photographer, was named news editor. Her husband, Al — also with the staff since 1979, was moved from sports writer to sports editor.
Okanogan County's tight economy eased slightly toward the late 1980s with construction of Omache Shopping Center in north Omak, and The Chronicle staff again found itself with little elbow room.
In 1989 Andrist and Koch sold the Main Street building to the Kendall family, owners of nearby Bramer Hardware and, during the week between Christmas 1989 and New Year's 1990, moved The Chronicle to its present location on Okoma Drive.
The staff and office cat, Inky, made the move without missing an issue.
The new location — the same building that had housed the print shop and later the short-lived, low-power TV station, OKTV, was remodeled by Dale Erickson from a freight warehouse to an office building.
Gray bought out the print shop and created Earl Gray Printing, relocating it to South Main Street.
Meanwhile, the printing industry was undergoing another technology revolution as desktop computers — notably the Macintosh — became widely available. After brief use of a now-defunct operating system to bridge the gap between phototypesetting, or "cold type," process and computers, The Chronicle settled on a Macintosh system.
The first Macs were purchased in the late 1980s, shortly before the move to Okoma Drive.
Reporters wrote their stories on computer and, more notably, began designing pages on the screen. Similarly, the production department also began designing ads on screen.
The pieces — news designs and ads — were "tiled" or printed on a laser printer, waxed and pasted onto full-page "flats." Photographs, printed in the darkroom as halftones (pictures with dots) were pasted in place.
Koch's title changed from managing editor to co-publisher in September 1990, during a staff reorganization in which she began supervising the advertising department and Dee Camp became news editor again after a 17-month stint as copy editor. Camp was special sections editor from 1991-1995, while Cheryl Probst filled the news desk. Probst left in September 1995 to work in China and Camp reassumed news editor duties.
The Chronicle suffered a major upheaval when Andrist suffered a brain stem stroke in December 1993. Koch bowed out of day-to-day management to be with him, first in rehabilitation in Seattle, and later as primary caregiver when he returned home to Omak in June 1994.
During the two and a half years after Andrist's stroke until the paper was sold to Eagle Newspapers in July 1996, staff members kept up operations with Koch and Andrist in supervisory roles from their home.
Eagle buys paper
Eagle's purchase brought a series of changes to the paper as equipment was updated and direction was honed under new publisher Judy Z. Smith. James Smith (no relation), then-publisher of the Eagle-owned Central Oregonian in Prineville, served briefly as interim publisher from July to September 1996.
Dee Camp was named editor that fall and Al Camp moved from sports editor to news editor two years later, still with sports duties. Smith assumed advertising director duties when longtime ad sales manager Marilyn Ries left in May 1998.
Under Judy Z. Smith's tenure, The Chronicle added digital darkroom equipment in January 1997. The equipment allows photographic negatives to be scanned digitally and stored in the computer, replacing the traditional darkroom.
New file servers were added, as well as a replacement black and white flatbed scanner and, later, a color flatbed scanner.
On Nov. 12, 1997, the new photographic technology and upgrades at the Chelan Mirror's press allowed The Chronicle to run its first full-color front page photo.
The Haeberle family's annual cattle drive through Conconully, complete with fall leaves, was chosen for that history-making photo.
Full-color photos and graphics have been a regular part of the paper since.
Before that, only "spot" color (a maximum of two colors) was available through the Chelan press, where each week's paper was printed.
All color photos had to be planned several weeks in advance and sent out to have color separations made. Full-color printing was done on an outside press, usually at the Grant County Journal in Ephrata or Consolidated in Seattle.
Now those color separations - into cyan (blue), magenta (red), yellow and black - could be made in-house and printed on a laser printer.
In addition to the color capabilities at Chelan, The Chronicle also used Eagle Web Press, Eagle Newspapers' full-service press in Salem, Ore., for special publications such as the glossy-covered Vacationland and InfoBook.
The Chronicle OnLine, an Internet Web page featuring news, photos, classified and now legal advertising, was launched in June 1997.
The site allows the staff to post updates to ongoing stories, carry election results the same night returns are announced and hit the virtual streets immediately with breaking news stories.
In March 1999, the printed Chronicle underwent a major redesign, the first since the mid-1980s.
The Scene magazine, a tabloid-sized section that featured arts, entertainment and TV schedules, was eliminated and a new broadsheet features section, Kaleidoscope, took its place and then some.
Typefaces and layout were modernized, and the paper went to a narrower "web" or width of paper. Papers average 30-36 pages a week with a paid circulation of more than 6,100.
The Chronicle and its shopper, The Bottom Line, blanket the county. It's an effective way for advertisers to reach virtually every household in the county.
Home delivery began in the spring of 1992 but was eliminated in fall 2018.
The Chronicle's first coin-operated news stands were added in 1997, allowing customers to pick up a paper from the outside stands as well as from stores, directly from the newspaper office or by subscription.
Another technology change came in the fall of 1999, when The Chronicle went to a Windows-based computer system and retired the Macs.
More changes
In 2007-8, The Chronicle's building underwent major remodeling as the front part of the structure was torn off and a new building was added. Dale Erickson again was the contractor.
The spacious new quarters gave everyone more breathing room and was built for expansion. During this time The Chronicle switched printers from The Chelan Mirror to The Wenatchee World.
Judy Z. Smith retired in September 2008 and Alex Paul was hired as publisher. His tenure was short-lived, as he returned to Sweet Home, Ore., at the end of 2009.
Roger Harnack, who was hired as publisher, instituted more changes, including a redesigned website, online e-edition and addition of a weekend paper published as a wrap of The Wenatchee World.
Harnack left in October 2015 and Teresa Myers was named publisher.
Elizabeth Widel, who had worked at the newspaper for 63 years, died Oct. 24, 2017, at age 100.
Brock Hires, who joined the staff in 2014, was named managing editor in 2017.
In September 2018, page production shifted to Eagle Media Lab, and that winter, the website was redesigned again.
The latest change in ownership came suddenly for the staff and community, as Eagle Newspapers sold The Chronicle on Aug. 1, 2019, to J. Louis Mullen and Tom Mullen, a son and father team.
Page production was moved back in the Omak office.
Longtime sports editor Al Camp retired in December 2019 after nearly 40 and a half years with the paper. Maddie Timm, an Okanogan graduate, became sports reporter.
Now in the spring of 2020, with the reality of novel coronavirus (COVID-19), the newspaper continues to rise to the challenges of community and society with continued reporting of a broad spectrum of news, including the virus.