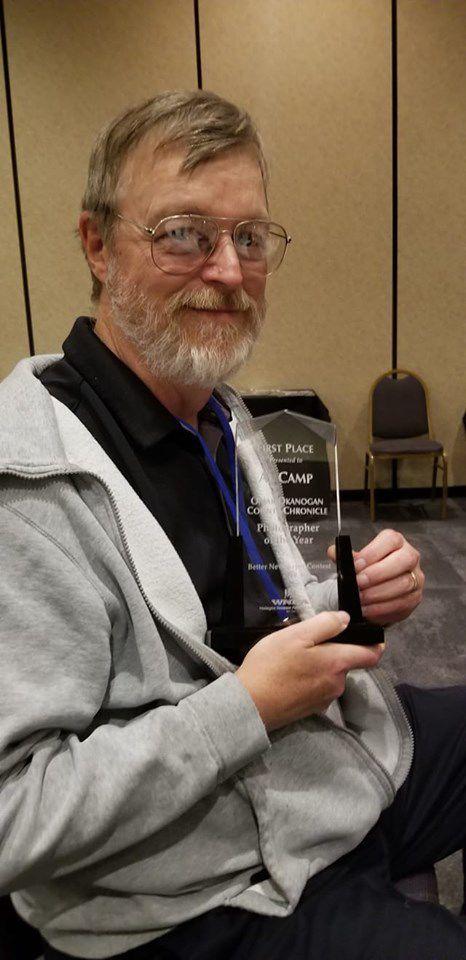 OLYMPIA — All of The Omak-Okanogan County Chronicle's news staff brought home awards during the 132nd annual Washington Newspaper Publishers Association Better Newspaper Contest Friday at the Hotel RL in Olympia.
Sport Editor Al Camp received one of the state's top newspaper awards, being named photographer of the year for all circulation categories.
"I've known for years how exceptional Al Camp's photography work has been and am overjoyed that he has received this award," Chronicle Publisher Teresa Myers said. "It has been a long time coming."
Camp also claimed a second-place win in the color sports photo, action category for a photo of Suicide Racer Edward Marchand on Jackpot.
The Chronicle also brought home an additional four first-place, three second-place and three third-place awards for newspaper work during 2018.
Managing Editor Brock Hires claimed a third-place award for investigative reporting for "Misconduct investigation completed," covering an allegation of sexual misconduct within the Ferry County Sheriff's Office, in which no charges were filed.
Hires also received a third-place win for his arts review of ZZ Top's performance at the Town Toyota Center in Wenatchee.
Reporter Katie Teachout was recognized with a first-place award for government reporting for her story "Council asks mayor to resign."
"Wow! That sounds like a fun meeting," the evaluating judge said of Teachout's coverage of the Tonasket City Council meeting. "Great job at reporting this tumultuous event."
Teachout also claimed second place for a breaking news story for her article "Storm batters region," following a wide-spread windstorm in early 2018.
Reporter Amber Hedington took home a first-place win in news of the weird division for "Medical mystery solved."
"The reporter had me at the edge of my seat throughout the piece," the judge said. "Great story. Great job."
Reporter Dee Camp took home a third-place win for her personality profile on the retirement of former Okanogan County Sheriff Frank Rogers.
"A colorful story about a colorful character," the evaluating judge said. "The visuals were great, but the reader is left wanting (to know) more about these escapades."
Bridgeport art teacher Brad Skiff took top spots in the political cartoon division by claiming both first and second places for editorial cartoons..
The top entry was Skiff's "The name says it all" cartoon, depicting former Tonasket Police Officer Jose Perez's name after the mayor allegedly asked him to change it.
"Powerful concept that made the textual into an effective and compelling visual," the evaluating judge said.
His second-place cartoon was "The saga of Liberty."
Former Chronicle reporter Sarah Highfield received first place in the lifestyle feature category for "Carving up creatures," a story written about a Bonney Lake artist carving bears in Brewster.
Former Chronicle Publisher Roger Harnack, who is now the owner/publisher of Free Press Publishing, brought home third-place wins for "Sheriffs take aim at I-1639," with RaeLynn Ricarte, "Affidavits of prejudice," and his color feature photo "Yakima Dancer," for the Colville-based Statesman-Examiner. He also claimed a first-place win in general interest column or blog for "On the Hot Seat."
The Twisp-based Methow Valley News staff received 41 awards, and the Oroville-based Okanogan Valley Gazette-Tribune brought home eight awards.
The Chronicle competes in Category 3, for newspapers with circulation of 5,001 to 12,500.
This year's contest entries were judged by the North Carolina Press Association.