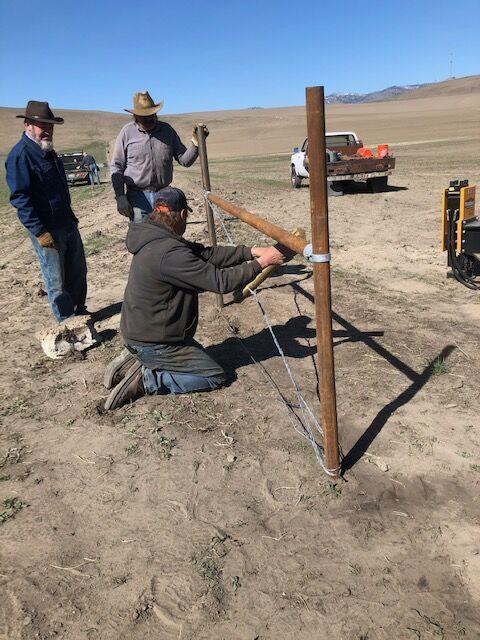 OMAK - Although the smoke has cleared and embers have cooled, the rebuilding process continues within the boundaries of the Cold Springs Fire.
The Cold Springs Fire Relief Group, organized as an all-volunteer group under the Omak-Okanogan Long-Term Recovery Organization (OOLTRO), is helping farmers and ranchers within the boundaries of the Cold Springs Fire — from Omak to Bridgeport and in between.
Organization Chairman Kory Heindselman and Vice Chairwoman Kathy Power said the groups' focus remains on containment boundary fencing and volunteer support.
When the 2020 Labor Day-weekend blaze ripped across the Colville Indian Reservation, it destroyed homes, barns, stacks of hay and hundreds and hundreds of miles of fencing. Green, lush grazing pastures were leveled to moon dust, leaving farmers and ranchers scrambling to prepare for the winter months ahead.
"Right now we're back to fundraising a little bit, because we're finding there's so much need," Power said. "Without the generous donations and wonderful volunteer help we can't keep moving forward like we are."
Shortly after the fire began, donations — both financial and materials — began rolling in. But once the smoke cleared, the donations began slowing.
"Those (funds) are depleted," Heindselman said. "Any drop in the bucket helps."
Power echoed Heindselman.
"When the fire's happening, basically, the smoke is still in the air (and) helping is still on everybody's mind," she said. "Now we're kind of starting over. They (fire survivors) still very much need the help.
"We're seeing the difference we're making," she said noting the volunteer groups have assisted to install nearly 15 miles of fencing since last fall. "We've done a lot, but there is still an enormous amount to be done."
"It's not just about helping that rancher, it's helping the entire community," Heindselman said. "That rancher goes to the grocery store, lumber store. It's one big web. When somebody sends in a $50 donation to Joe the rancher, they're making our county what our county is."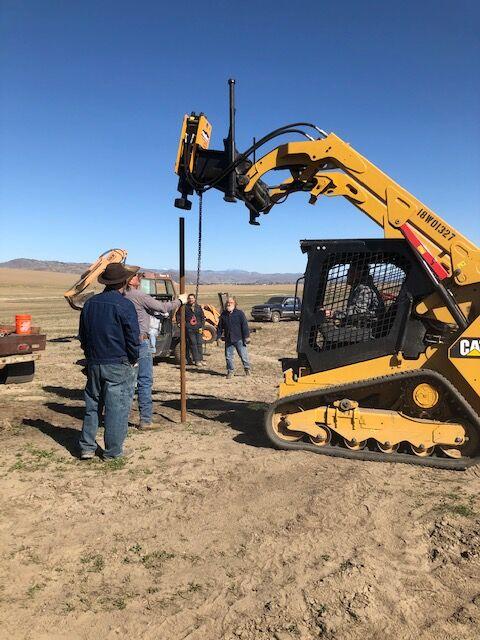 Christians offer assistance
Aside from supplies and funding, Heindselman and Power said a steady supply of volunteers and volunteer organizations have been vital to competing projects.
For the last two weeks Restoration Hope Northwest (RHNW), a Washington state non-profit, faith-based volunteer disaster response organization from Chehalis, has been on hand to assist ranchers.
"Restoration Hope is a Christian humanitarian organization that provides hope and aid to people in need that have been affected by natural disasters," Power said. "This group has been coming to Okanogan County usually twice a year since 2015 to help with the relief and recovery efforts for folks that were affected by the Carlton Complex Fire and floods, the Okanogan Complex Fire and floods, and is now assisting with the Cold Springs Fire fence restoration and rebuilding efforts."
Power said the size of the group varies, but in the past it has come 60-strong with a "huge complement of heavy equipment."
"What we're doing is we're building fence and that is kind of out of the norm for us a little bit," said Dan Boes, leader of the RHNW team. "This was a little bit of a new twist for us."
He said his group has made about 10 trips to the county since 2015 to assist with recovery, including 160 individual projects.
"We get a lot done when they roll in to town," Power said.
She said in the past, assisting the OCLTRG in recovery efforts they have done site cleanup projects, site prep for home reconstruction, flood restoration and cleanup, foundation removal, utility ditches, road repair and culvert installation, road construction and repair from fire and flood damage. They also have assisted with home painting and electrical, fencing repair and restoration, building construction, fire restoration cleanup from logging, brush piling and burning logging slash, hazardous tree felling, distribution center assistance, planting and distribution of seedling trees.
"We are so blessed to have them back assisting the folks working at recovering from the devastation of the Cold Springs Fire," she said.
Floyd Yoder, Christian Aid Ministries (CAM) of Gold Creek, Mont., also has been key in offering assistance.
"Floyd drove over from Clearwater, Mont., on this last Monday to bring the Restoration Hope NW team two hydraulic post drivers that mount on the skidsters to use while repairing and restoring fences in the Cold Springs Fire area for the cattle ranches," Power said. "Floyd is the lead of the CAM's team that were here doing cleanup and fencing projects for all of October and into November last fall.
"Floyd owns Montana Post Driver and has donated these drivers to be used by volunteers that will eventually hopefully be sold to one of the local rental companies in the Okanogan area," she said.
"Our community needs to know how vitally important volunteer teams are, not only do they assist in the rebuilding of people's lives, through their efforts, they also help to restore hope to those that have lost so much trying to find their way forward."
How people can help
Heindselman and Power said priority needs include monetary donations, volunteers, volunteer support (housing) and fencing materials.
Donations for OOLTRO Cold Springs Fire Relief can be made through PayPal, sent to coldspringsfirerelief2020@gmail.com.
Monetary donations can also be dropped off at RE/MAX 215 N. Main St., Omak.
Checks can be mailed to Cold Springs Fire Relief, P.O. Box 1244, Omak, WA 98841.
Power said all donations will be receipted for accurate accounting.
For questions regarding making monetary donations or to volunteer, call 509-429-3133 or 509-429-2403, or email coldspringsfirerelief2020@gmail.com.
The organization also has a Facebook group, which has additional information and progress updates.
The Omak-Okanogan Long-Term Recovery Organization was formed in response to the 2015 Okanogan County Complex wildfires. It is a state-recognized non-profit corporation.
Donations to help support the Restoration Hope Northwest team can be made through its website at restoration hopenorthwest.com.